Have bought a whole lot of stuffs (and snacks) this week. Getting broke from the purchases. First on the list of Rainbow Pocky which Lester Chan's mum has brought in from overseas. Bought a few boxes of it for Serene, Ying Ying and myself.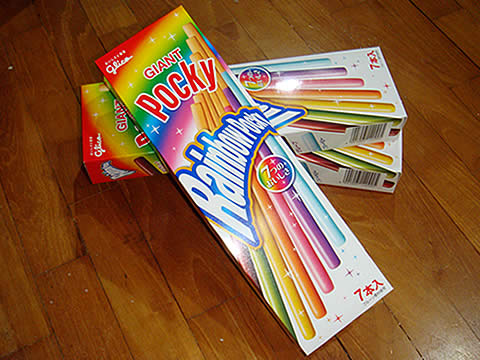 Giant Rainbow Pocky in 7 different flavors
Went down to the Singapore Food Fair at Expo on Friday. Besides eating some yummy food there, I also bought some tidbits and food stuffs back.
Met up with Ken and Ricky at Silvery Moon for supper that night! Yummy supper! Had sambal fried rice, buffalo wings, veggy dumplings, french fries, etc. Think we left the place quite late. Carried a UPS back to Serene's place.
Saturday is a tiring day as I am carrying all these loots (food stuffs from Expo and UPS) to shop in town! Besides the loots, I am also carrying my heavy working bag. Need to find a good bag soon.
Managed to see some cosplayers at Suntec Convention Hall. Erm… After seeing some of the cosplayers, I think the quality of the cosplayers have  improved compared to the past but there are definitely more rooms for improvement.
Lastly, I managed to get a new pair of working pants from G2K! Yeah!