Apple iMac 27″ – The ultimate all-in-one computer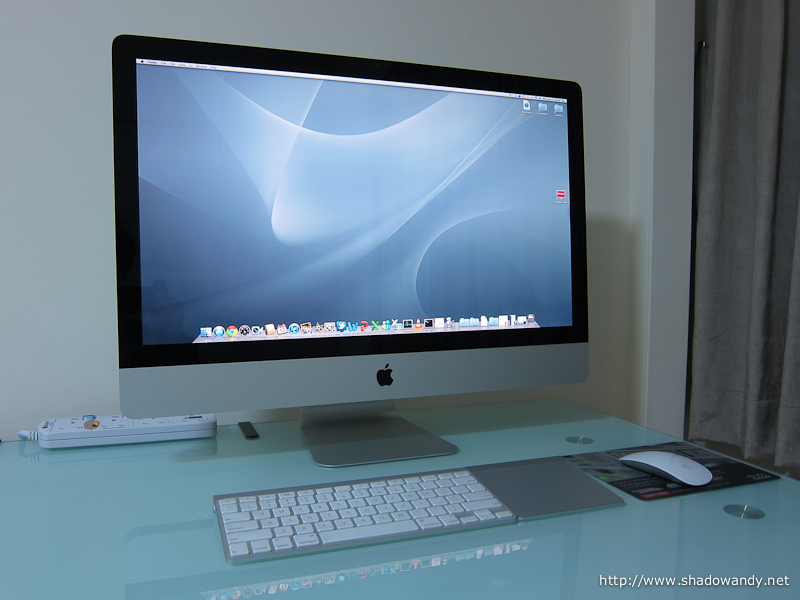 Finally got myself a decent computer from the recent PC Show 2011 (9 June to 12 June 2011). In fact, I got myself the ultimate all-in-one desktop computer and I am using it to compose this entry you are seeing now.
This Apple iMac 27-Inch is the mid 2011 model that comes with the following configuration:
27-inch LED-backlit glossy widescreen TFT display (resolution: 2560 by 1440 pixels)
2.7GHz quad-core Intel Core i5 with 6MB on-chip shared L3 cache
8GB (two 4GB) of 1333MHz DDR3 memory (upgradable to 16GB although some have pushed it successfully to 32GB)
1TB (7200 rpm) harddrive  (upgradable to 2TB or 256GB SSD)
AMD Radeon HD 6770M graphics processor with 512MB DDR5 memory
Two Thunderbolt ports
One FireWire 800 port
Four USB 2.0 ports
SDXC card slot
Check out the Apple iMac page.
Interested to get a iMac 27-inch? Check out the Apple iMac 27-Inch Desktop deals on Amazon.
Setting the system up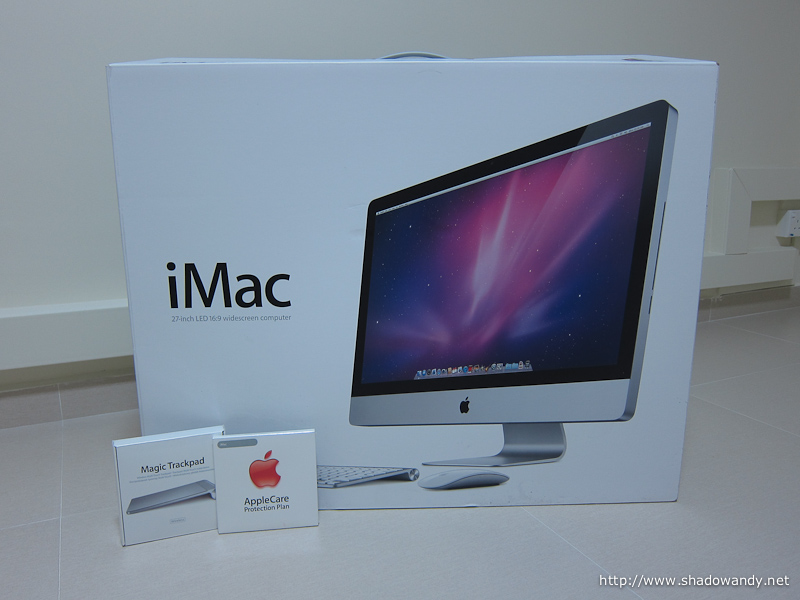 First thing I said after setting the system up? Marvelous.
Why? Just because the process of setting it up is so straight-forward:
Unpack the iMac from its packaging
Connect the power cord. One end to the back of the display, the other to the power socket and flick the switch. No prize for guessing which end goes into the power socket
Hit the power button at the back of the iMac
Follow the on-screen instructions
Yes, just that. No "Take A, connect to B, using tool C, follow instruction diagram D" type of instructions. It is simply intuitive.
The Apple Wireless Keyboard, Apple Magic Mouse and Apple Magic Trackpad get recognized straight out of the box.
Maximizing the Apple experience
Using a Mac probably means – spending time on productive work, leave the mess (for Apple to clean up). So getting the AppleCare is probably recommended. AppleCare extends the warranty coverage to three years of service and expert telephone technical support.
AppleCare includes:
1. One stop technical support
Direct access to Apple experts
Global repair coverage
Onsite, mail-in, or carry-in repairs
2. Apple hardware coverage
3. Software support
Using Mac OS X
iLife and iWork questions
Connecting to Apple AirPort networks
So if you have not got yours, consider getting the AppleCare Protection Plan for iMac.
Picture Gallery