ASUSTOR AS-606T Review – ASUSTOR Data Master (ADM)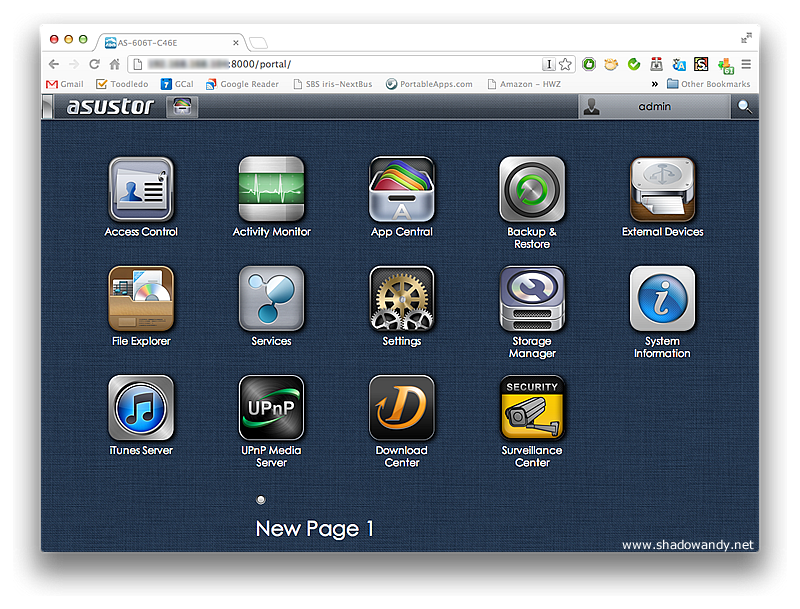 The ASUSTOR Data Master (ADM) is the operating system of the ASUSTOR NAS (Network Attached Storage) devices. The ADM is developed by ASUSTOR Inc. Yes, this means the ASUSTOR AS-606T is powered by ADM.
The first thing I noticed are the organisation of the applications. They are organised by page(s) and are easy to navigate on both the computer as well as touch-based devices like tablets or mobile phones.
Applications can be rearranged easily by dragging and dropping them into the intended location. Or simply move them to different pages by first right-clicking on them then select to move them to the intended pages.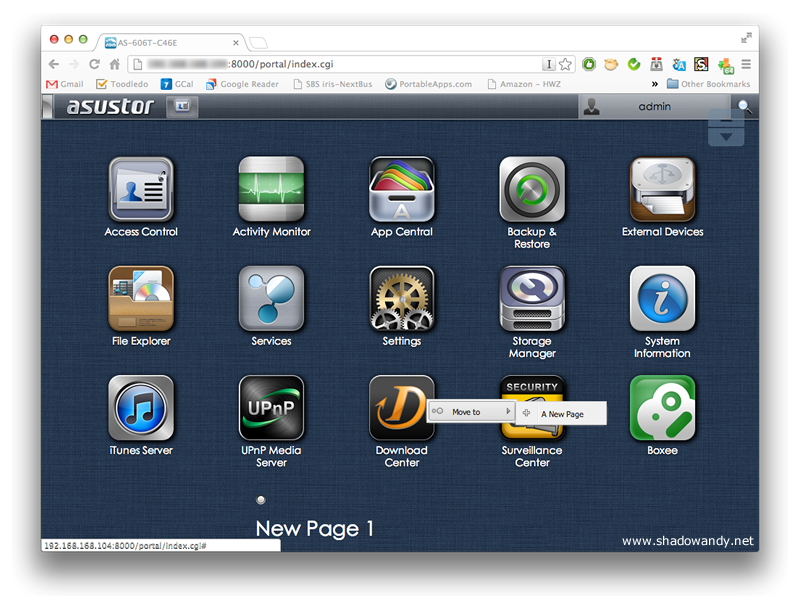 App Central – Vast repository of applications
Applications can be easily added or removed through App Central which is an online repository of applications for the ASUSTOR NAS devices. For the listing of available applications. Check out the App Central page.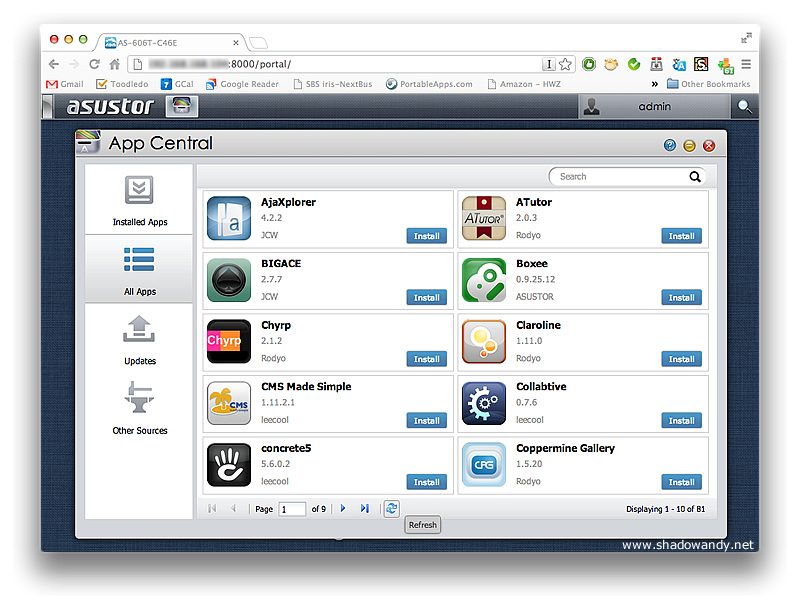 ASUSTOR also allows third party applications (packaged as APK file) to be installed. However, do note that applications not verified by ASUSTOR may cause irreversible damage to the NAS.
Do remember to install Boxee if you intend to use the ASUSTOR NAS to play media directly to the TV.
Downloading new application is a breeze. Simply click the install button next to the application and App Central will do its own download and installation. A new application icon will appear once the installation is complete.
Registering your ASUSTOR NAS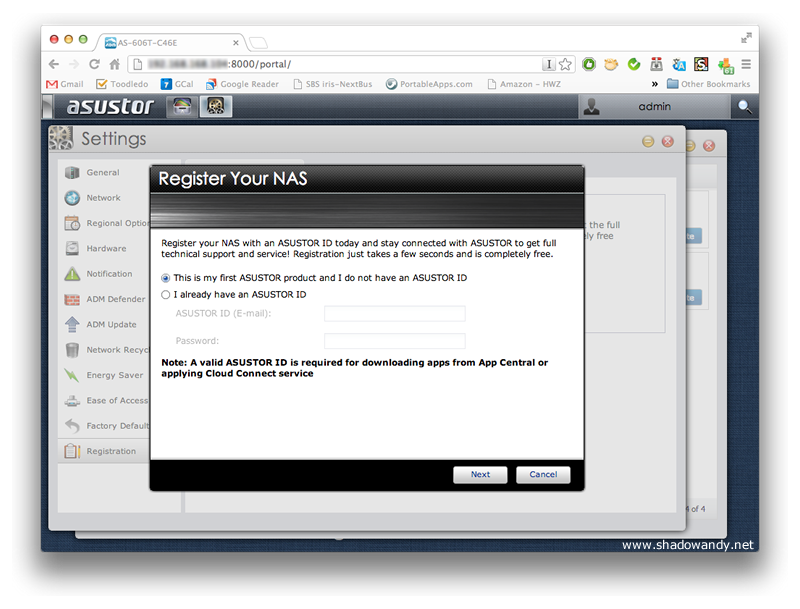 Before you can enjoy new applications through App Central, you are required to register the product with your ASUSTOR ID. After filling up the registration information, simply click Finish and login with your ASUSTOR ID.
Dr. ASUSTOR – Keeping the health in check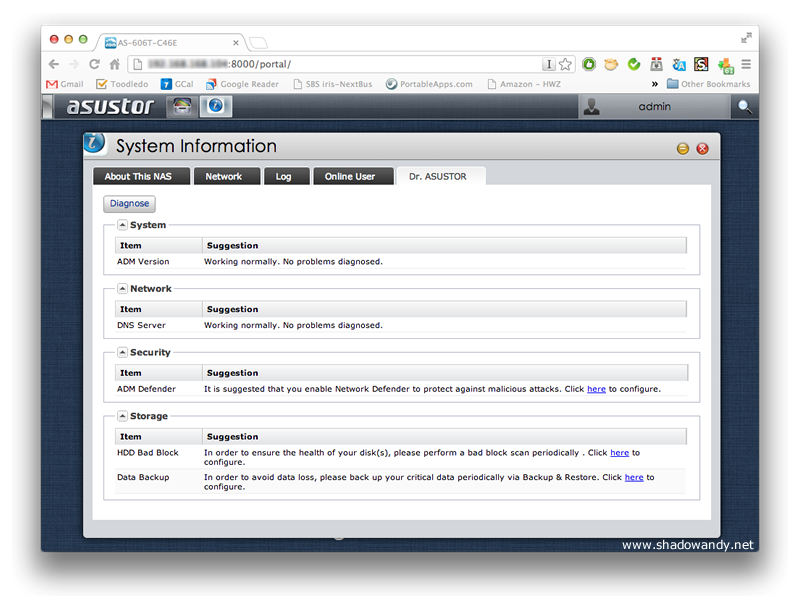 I think most users will appreciate this Dr. ASUSTOR feature . It does a basic health check for your ASUSTOR NAS. Making sure that the Operating System (ADM) is running well, no issues with your connectivity and most importantly, the health of your hard disks.
Conclusion
The ADM interface is refreshing and a total change from what I have experienced from Netgear, D-Link and Synology products. Both Netgear and D-Link is still pretty much the webpage-web-admin type of administrative console while Synology has an impressive desktop feel.
Instead of following what the competitors have, ASUSTOR have implemented a neat and functional web admin. As a result administrating the ASUSTOR NAS from computer or mobile device is easy. However, the lack of a mobile interface cause leaves a less than perfect user experience when you are on a low bandwidth link.
Personally, I prefer the ADM to have a widget option so that I can place some health metrics (e.g. CPU, Network, Volume integrity) on the "desktop".
Lastly, I feel that the user interface is good and functional. The App Central has opened up a whole realm of possibilities for end consumers to customise their ASUSTOR NAS – be it using it as a downloader and media player or hosting their own personal wordpress site, etc. The options are limitless.
Let me dig around to see if there is an online demo for the ADM so that you can better appreciate what I am experiencing.
The different parts of ASUSTOR AS-606T review
Some additional pictures