OnePlus One – Never Settle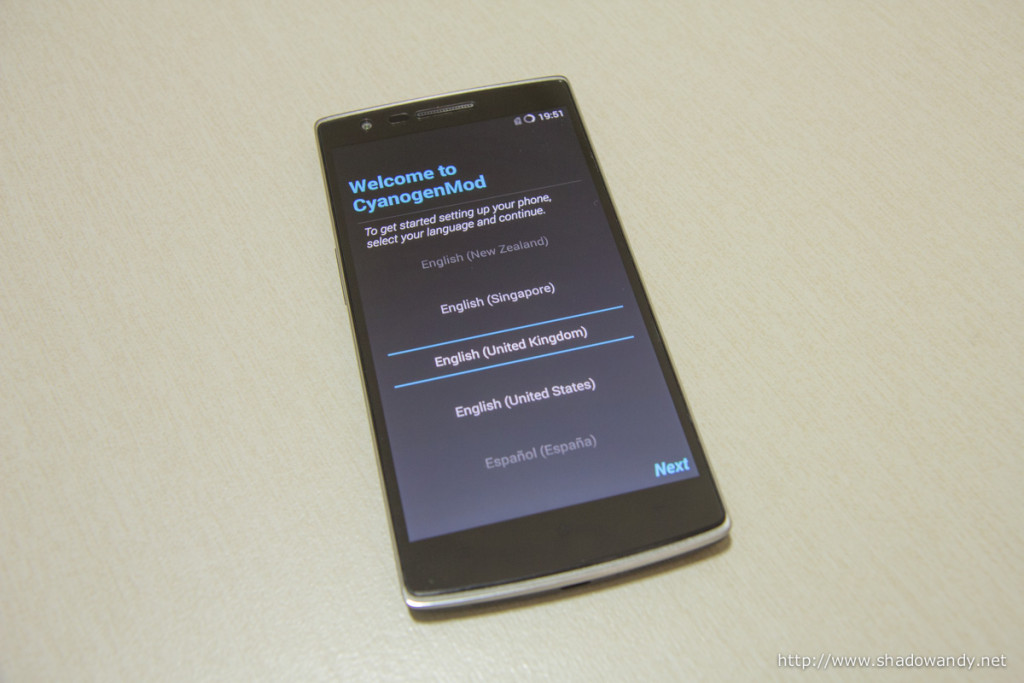 The OnePlus One (A0001) is an affordable smartphone with great technical specifications and a customisable Android OS! I chanced upon this phone while looking for a worthy replacement for my wife's ageing Samsung Galaxy S3. I bought the OnePlus One Sandstone Black 64GB edition.
I am not going to review this phone in detail though. Just probably going to share some pictures and links to root the OnePlus One Sandstone Black 64GB.
The Operating System (OS)
The OnePlus One uses the CyanogenMod Android OS. CyanogenMod ROM is known to be stable and often a great replacement of the stock ROM/OS that comes with Android smartphones from manufacturers like HTC, Samsung, Motorola.
The top-notch Specifications
For US$349 (non-contract), the specifications of the OnePlus One is really top-notch.
OnePlus One Technical Specifications
OS
CyanogenMod 11S based on Android 4.4
CPU
Quad-core 2.5GHz Snapdragon 801 Processor
GPU
Adreno 330, 578MHz
RAM
3GB
Storage
64GB eMMC
Screen
5.5 inch LTPS IPS with TOL, Corning Gorilla Glass 3
Resolution
1080p Full HD (1920 x 1080), 401 PPI
Camera
13MP (rear) with dual LED, F/2.0 
5MP (front)
Video
4K resolution video with stereo recording
Slow Motion 720p video at 120fps
Network
GSM: 850, 900, 1800, 1900MHz
WCDMA: Bands: 1/2/4/5/8
LTE: Bands: 1/3/4/7/17/38/40

Connectivity

WiFi: 802.11 b/g/n/ac
Bluetooth: 4.0
NFC: 65T
Navigation
Assisted-GPS + GLONASS
Digital Compass
Battery
Lithium-polymer 3100mAh (embedded)
Dimension
152.9 x 75.9 x 8.9 mm
Weight
162 gm
The 24-hour Invitation
Buying theOnePlus One smartphone can be a little tricky. They are not offered off-the-shelf (like Samsung, Apple) and you need to have a invite to buy it.
Occasionally, there will be contest to win an invite. If there are no contest, you can simply indicate your interest and cross your fingers. And before I forget, the invite lasts only 24 hours. Yes, 24 hours. If you don't make the order within that period, the invite expires. Gone. Find another invite. Period.
Recently OnePlus decided to make it easier to buy the OnePlus One. Basically, they will open up sales for 24 hours (3pm Tuesday Singapore Time) and OnePlus One will be available without an invite.
Rooting the OnePlus One
Once again, the very first thing I did to the phone was to, of course, remove from its packaging. It is soon followed by charging and rooting the OnePlus One (A0001).
Rooting the OnePlus One is surprisingly straight forward with the OnePlus One Toolbox. Simply unlock the bootloader, replace the stock recovery and flash the SuperSU update package. Rooted.
Before you use the OnePlus One Toolbox, just ensure that the Android driver, FastBoot and ADB are installed. You can use this to install the Android driver, FastBoot and ADB.
After spending like 15 minutes rooting the OnePlus One, it is ready and nicely themed for the Missus.
Hope she likes it!
What's with the "Never Settle"?
Lastly, "Never Settle" is OnePlus's philosophy about understanding users' root problem and making the best product decisions to solve them. Check them out here.
Picture Gallery
Treat shadowandy!
If these step-by-step guides have been very helpful to you and saved you a lot of time, please consider treating shadowandy to a cup of Starbucks.