Synology DiskStation DS1515+ Review – Adding new Hard Drive to Expand Storage Capacity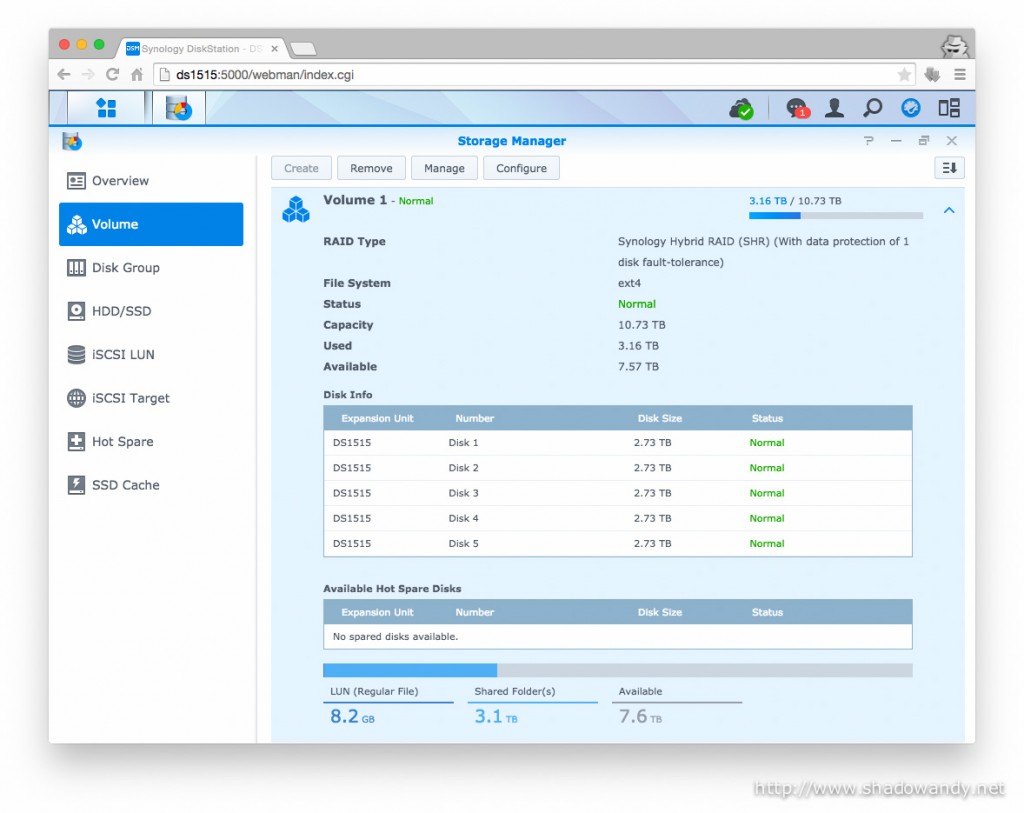 There is an empty drive bay in my Synology DS1515+ and there are three choices:
Leave it empty
Populate it with an identical hard drive as hot spare
Populate it with an identical hard drive and expand the storage capacity
No prize for guessing which one I chose as it is pretty obvious.
Choice of hard disk
Instead of getting a larger capacity hard disk, I bought the same model as the current ones – a Western Digital 3TB Red NAS Drive.
A 3TB drive doesn't make economic sense today as higher capacity drives (e.g. 5TB or more) cost lesser (price per gigabyte). So why did I get the 3TB? It is because it will not result in unused space and would probably average out the wear-and-tear across all the hard disks.
For Synology Hybrid RAID (SHR) to fully utilize the space, there must be at least two hard drives with higher capacity. Try playing around Synology RAID Calculator and you will get what I meant. Try setting 4 disks of 3TB and 1 disk of 5TB and you will see available space that you cannot tap on.
I can, however, swop out one of the 3TB drives and have the disk configurations as 3 disks of 3TB and 2 disks of 5TB and have a total of 14TB raw storage capacity instead of 12TB. For this configuration, I suspect that the hard drives might be worn out unevenly (data getting written and read more frequently from the two higher capacity hard drives).
Conclusion? Final configuration of 5 disks of 3TB and wait for an appropriate time to upgrade all the disks.
The Plan
Although upgrading the Synology DiskStation DS1515+ storage capacity is less risky than migrating hard disk from DS412+ but I still did up one.
Check the health of current volume
Backup the current data (optional)
Insert the new hard drive
Expand the volume
Check the health of current volume
Before proceeding with the storage capacity expansion, I launched the Storage Manager and ensured that current volume is healthy. That is, no failed disks or degraded volume. I once had to repair a degraded volume on my Synology DS412+. System is all green and good to proceed.
Backup the current data (optional)
Expanding storage capacity is relatively safe so this step is entirely optional. Since I have got the Seagate Expansion 5TB Desktop Drive, I proceeded to refresh my backup that I did while migrating from DS412+ to this DS1515+.
The backup steps are similar to the ones in my post on Synology DiskStation DS1515+ Review – Migration between DiskStations (DSM 5.2).
Insert the new hard drive
I installed the new Western Digital Red 3TB hard disk to the provided hard disk tray.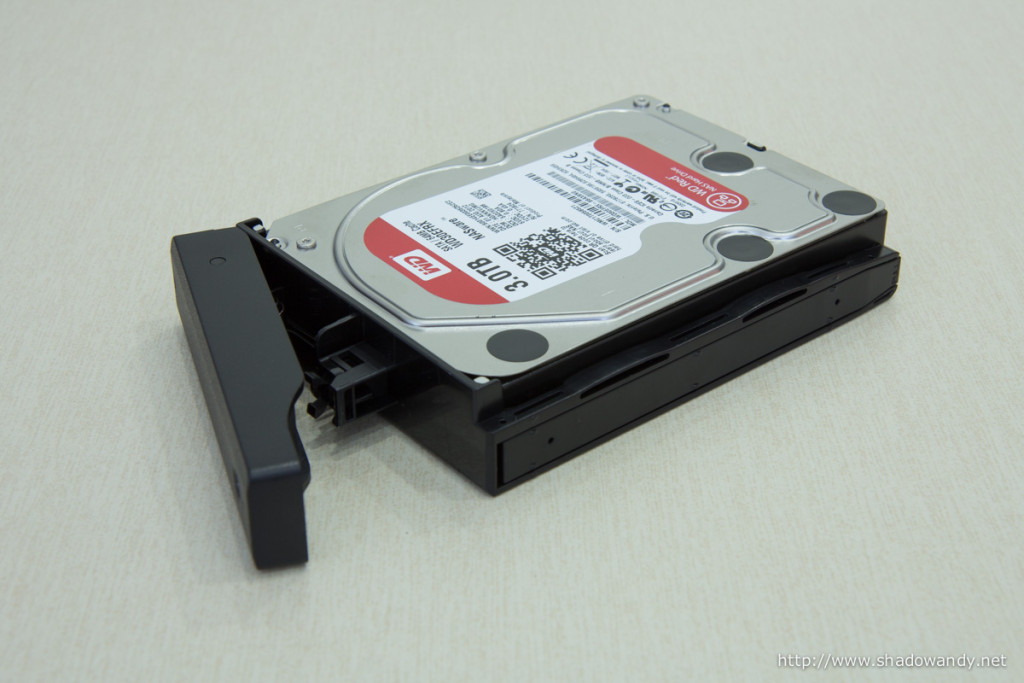 If your Synology DiskStation supports hot-swap, you can test-drive it by inserting the new hard disk into the unused drive bay while the DiskStation is on. Otherwise, you can power it off before doing so.
For me, I powered off the DiskStation before inserting the new drive despite the DS1515+ supporting hot-swap. Why? No impact to my users – family members and I don't want to mess any electrical stuffs up in a non-critical scenario. Leave the hot-swap feature until the day I really need it.
After inserting the new hard disk, power on the DiskStation and let it boot up. Once it is booted up, login to the DiskStation Manager (DSM) and ensure that the newly inserted hard disk is recognised in Storage Manager (unused disk count should be more than 1).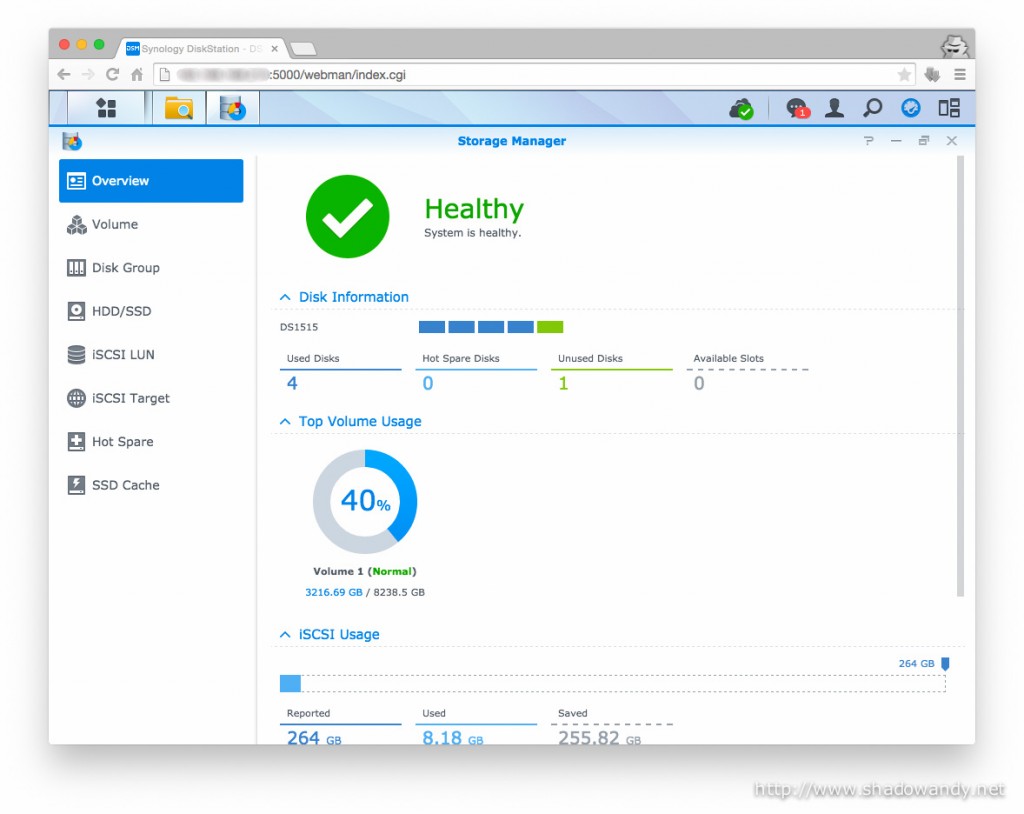 Expand the volume
Expanding the capacity of the volume is a straightforward task with DSM. I just had to follow the instructions from Storage Manager and the Synology DS1515+ started doing it job of adding the new hard disk to the volume.
Do take note that the process of expanding the capacity of the volume takes quite a while and you will have degraded performance while it is doing so. If the DS1515+ is critical for your work or production environment, do the expansion during a lull window of like 2 days.
Just a tip – At any point of time during the volume expansion process, you can SSH into the Synology DiskStation and issue the "cat /process/mdstat" command to check the remaining time before it completes the expansion.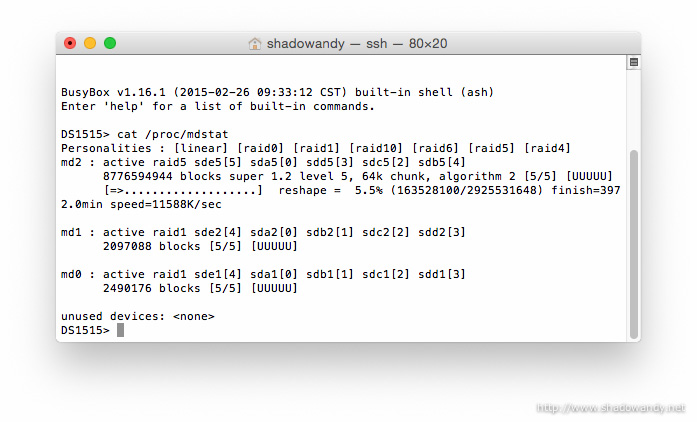 Allow me to quickly run through the process of adding the new hard disk to the volume (volume 1).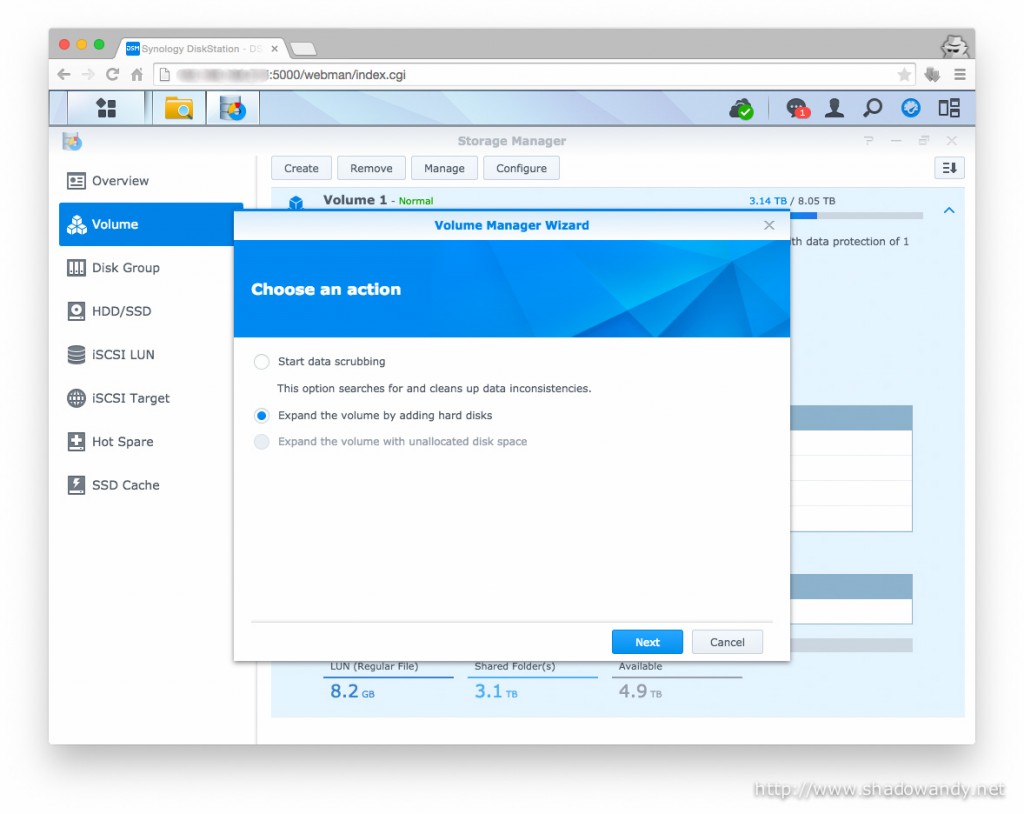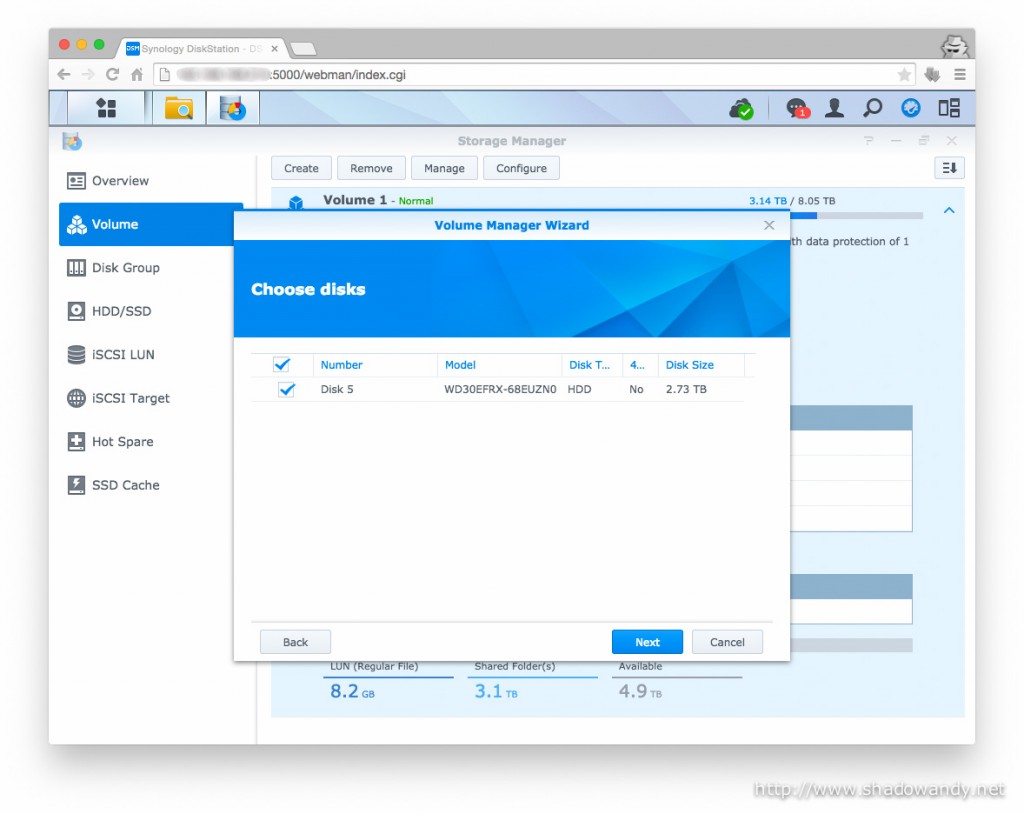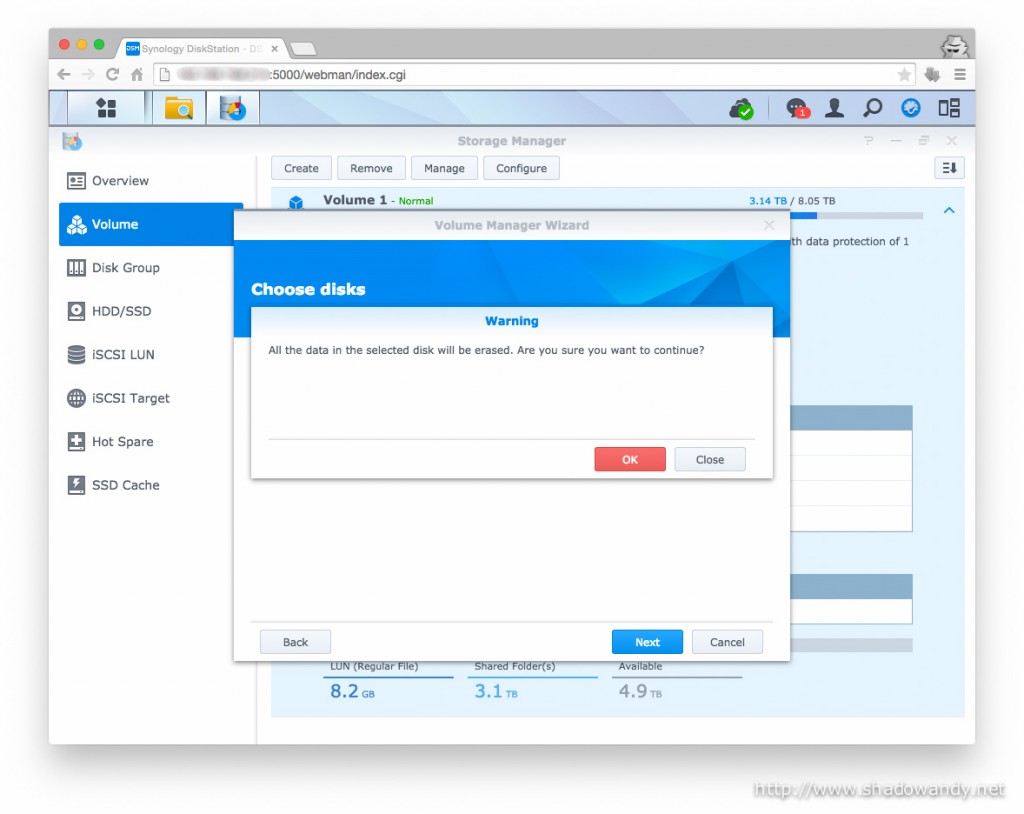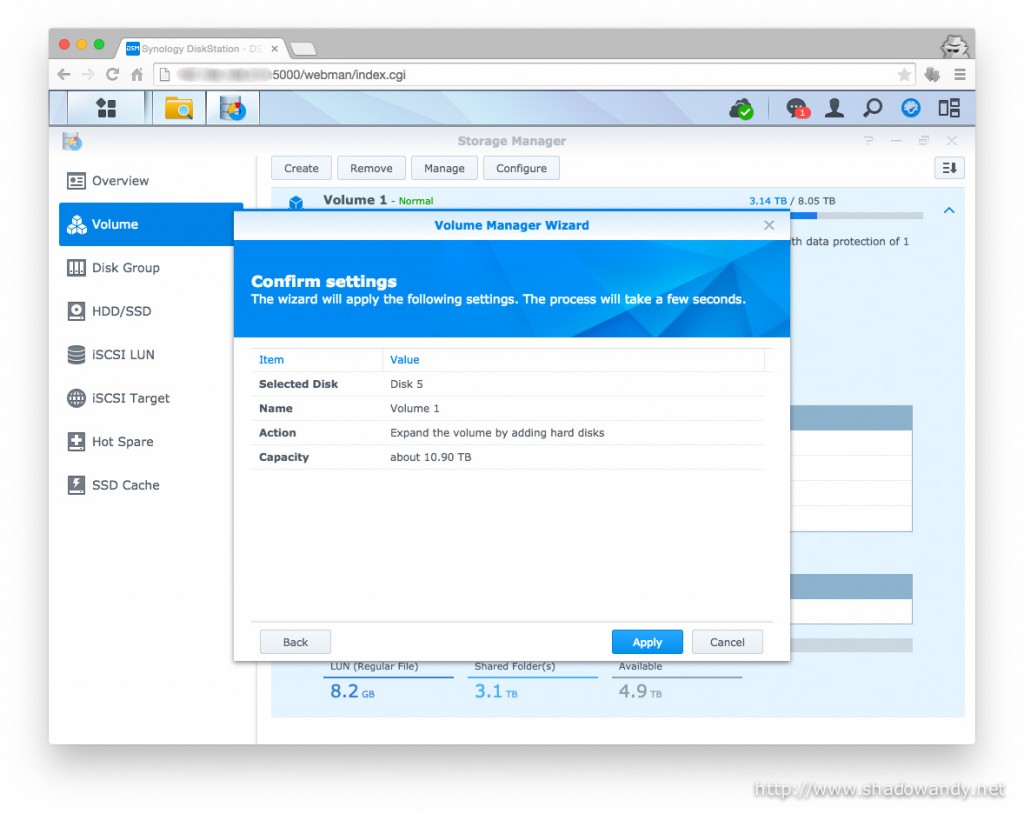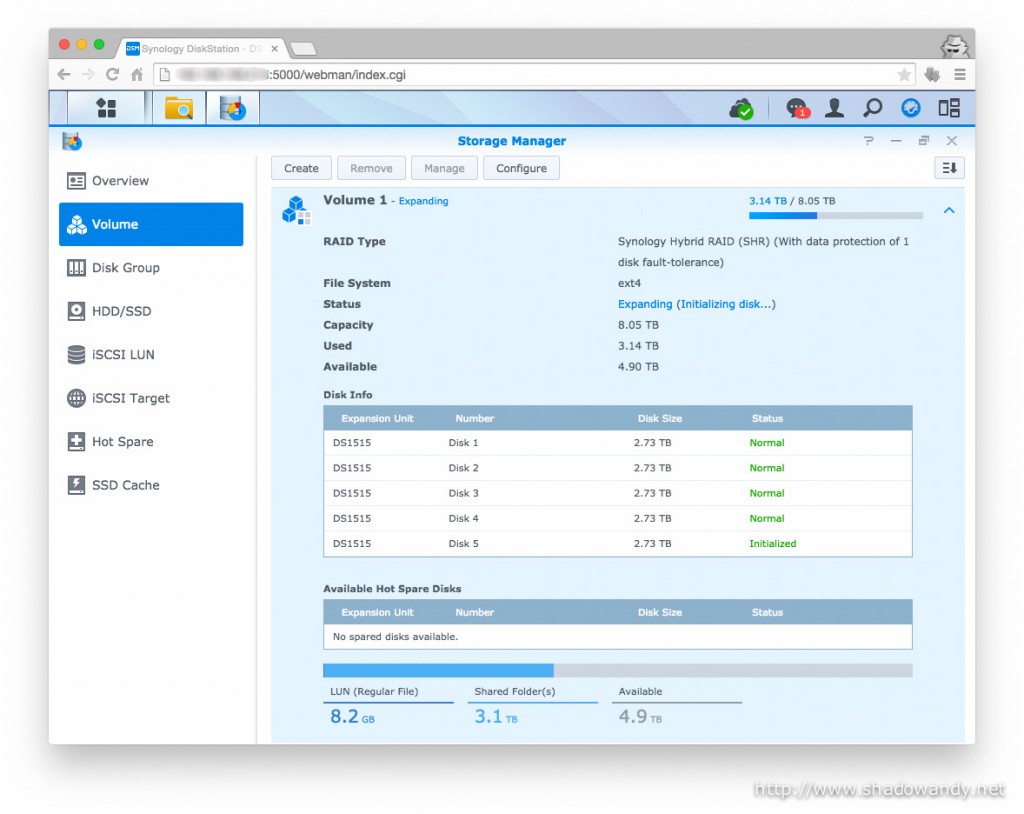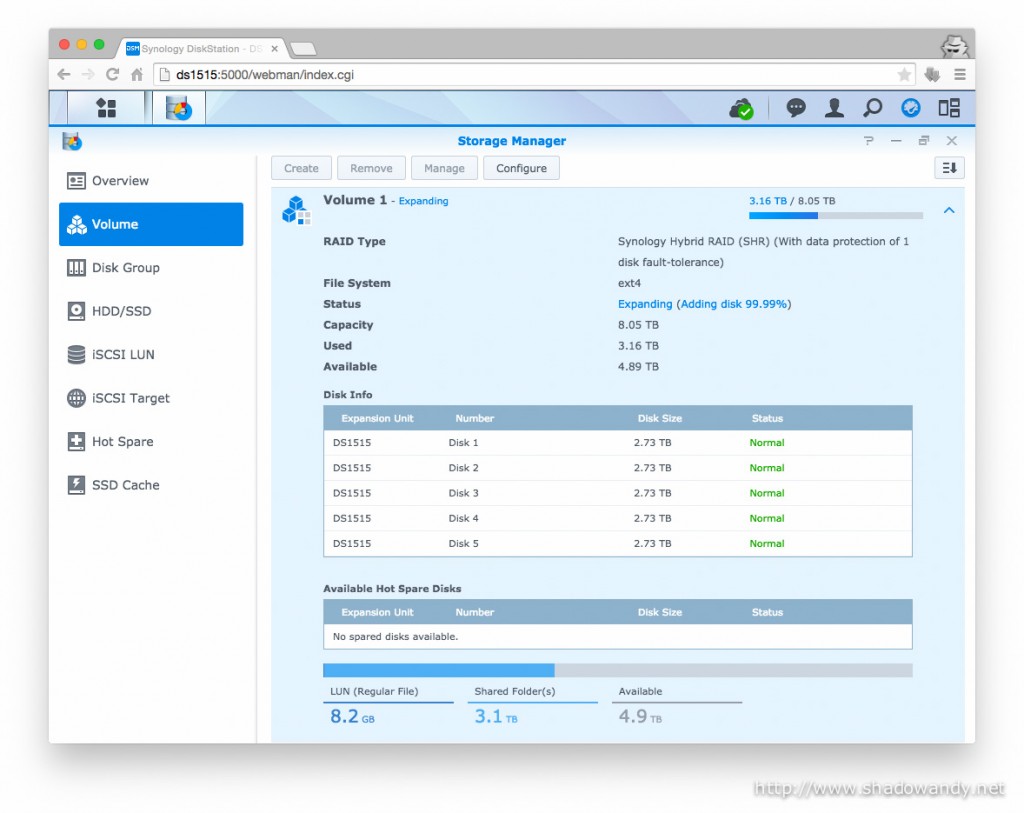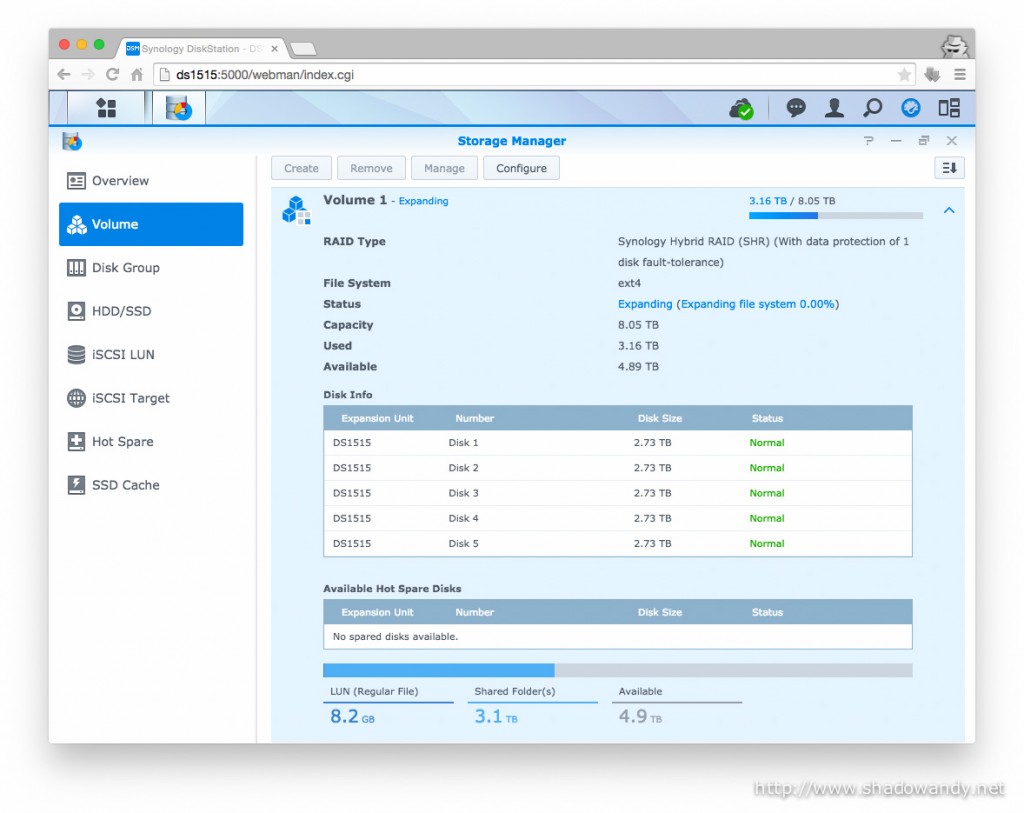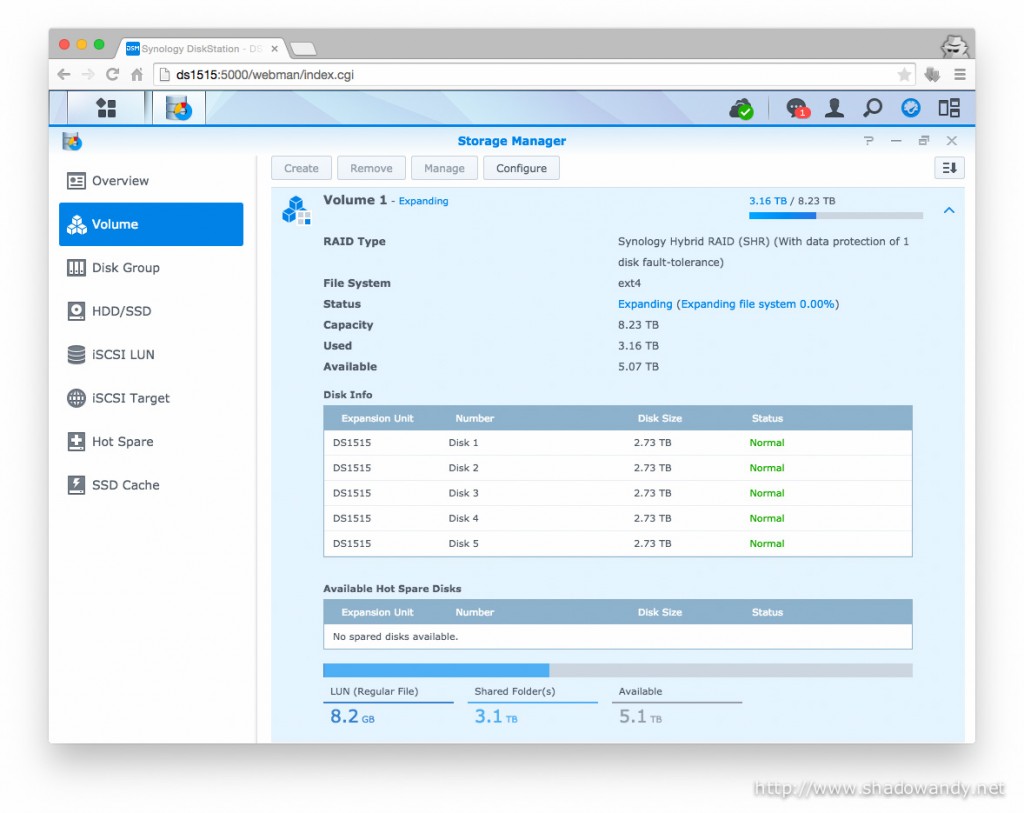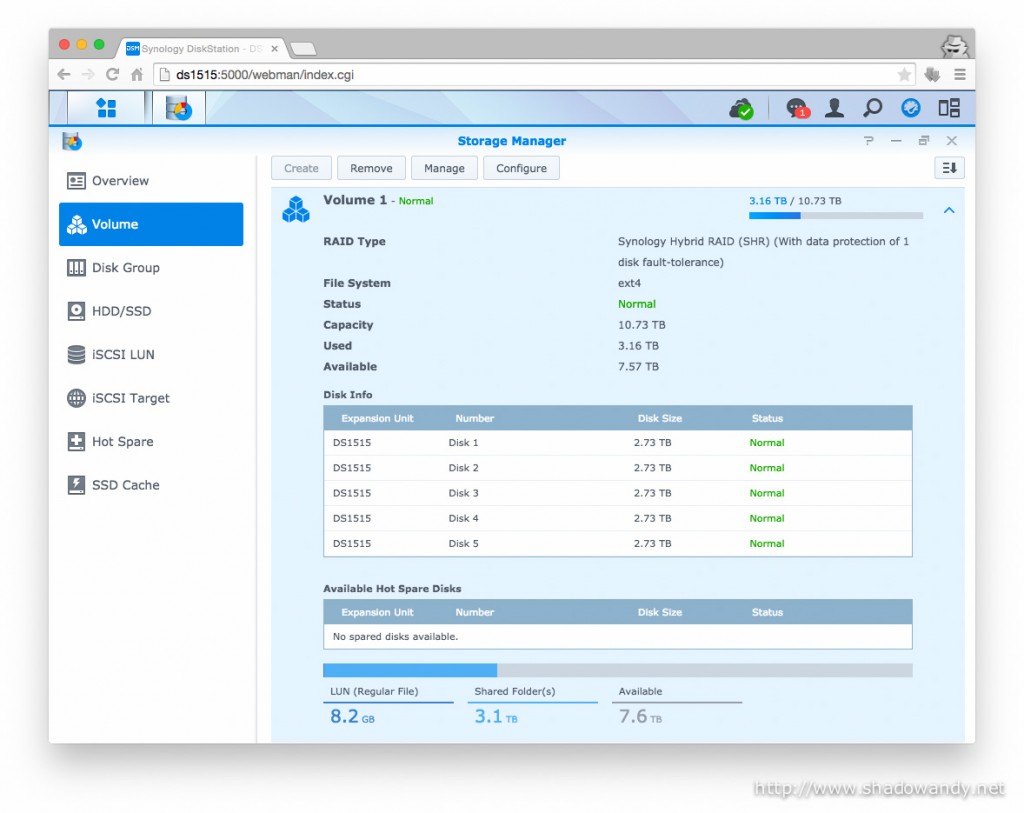 Conclusion
It is my first time expanding the storage capacity on any of my NAS via adding of new hard disk.  So I would say, the process of expanding storage capacity on Synology DiskStation is simple and a pleasant experience for me.
In the near future, I would embark on in-place upgrade of storage capacity by replacing the hard disks one-by-one with higher capacity ones. It will not be so soon unless I exhaust 10TB worth of storage! I just hope that the process won't be a daunting one. If any kind folks are generous enough to donate 5 higher capacity and reliable drives, I will be happy to document down the process of in-place hard disk upgrades.
Gallery
Treat shadowandy!
If these step-by-step guides have been very helpful to you and saved you a lot of time, please consider treating shadowandy to a cup of Starbucks.