August 2017 Stock Portfolio Update
Stock Portfolio Allocation

| No. | Stock | Units | Average Price | % of Portfolio |
| --- | --- | --- | --- | --- |
| 1 | ABF SG BOND ETF | 13248 | 1.155 | 20.27% |
| 2 | Nikko AM STI ETF100 | 2229 | 3.244 | 9.94% |
| 3 | SPDR STI EFT | 2200 | 2.989 | 9.55% |
| 4 | Sats Ltd | 1000 | 3.041 | 6.38% |
| 5 | Sheng Siong Group Ltd | 5000 | 0.594 | 6.02% |
| 6 | Sembcorp Industries Ltd | 1500 | 4.675 | 5.9% |
| 7 | Frasers Centrepoint Trust | 2000 | 1.806 | 5.6% |
| 8 | ST Engineering Ltd. | 1000 | 3.781 | 4.75% |
| 9 | SIA Engineering Company Limited | 1000 | 4.671 | 4.6% |
| 10 | SPH REIT | 3000 | 0.901 | 3.91% |
| 11 | Singapore Press Holdings Limited | 1000 | 4.001 | 3.68% |
| 12 | Singapore Post Limited | 2200 | 1.338 | 3.62% |
| 13 | Parkway Life REIT | 1000 | 2.34 | 3.57% |
| 14 | Cache Logistics Trust | 3000 | 1.167 | 3.49% |
| 15 | StarHub Ltd. | 1000 | 4.101 | 3.38% |
| 16 | M1 Ltd | 1000 | 3.331 | 2.36% |
| 17 | iShares Core MSCI World UCITS ETF | 20 | 46.117 | 1.31% |
| 18 | Sabana REIT | 2000 | 1.085 | 1.25% |
| 19 | Vanguard FTSE All-World ETF | 4 | 72.178 | 0.41% |
2017 Performance (Singapore Dollars)
Total dividends collected (Current year)
$2,128.13
Total dividends collected to date (Nov 2013 – Now)
$8,368.58
Total Invested Capital
$80,919.37
Projected Annual Yield
$2,560.84
Average Monthly Dividends
$177.34
Unrealised Gains / Loss
-$4,586.71
Through POSB InvestSaver, bought 86 units of Nikko AM STI ETF (SGX:G3B) at $3.4285 and 428 units of ABF SG Bond ETF (SGX:A35) at $1.1622.
Using the Standard Chartered Bank's trading platform, bought 6 units of iShares Core MSCI World UCITS ETF (LSE:IWDA) at US$49.57.
Managed to hit 20% of bonds in my portfolio. After reading some investment books, they mentioned that Singaporean's CPF-SA can be considered as bonds too. I will probably need to recalculate the ratio that I should maintain for my various asset classes.
Dividends
Received S$806.60 worth of dividends:
Cache Logistics Trust (SGX:K2LU) – S$54.00
Frasers Centrepoint Trust (SGX:J69U) – S$60.00
M1 Ltd (SGX:B2F) – S$52.00
Parkway Life REIT (SGX:C2PU) – S$33.20
SIA Engineering Company Limited (SGX:S59) – S$140.00
SPDR STI EFT (SGX:ES3) – S$105.6
SPH REIT (SGX:SK6U) – S$41.1
ST Engineering Ltd. (SGX:S63) – S$50
Sabana REIT (SGX:M1GU) – S$16.2
Sats Ltd (SGX:S58) – S$110
Sembcorp Industries Ltd (SGX:U96) – S$45
Sheng Siong Group Ltd (SGX:OV8) – S$77.5
Singapore Post Limited (SGX:S08) – S$22
StarHub Ltd. (SGX:CC3) – S$40
Donation
Made a token sum donation of $120 towards Metta Welfare Association.
Precious Metals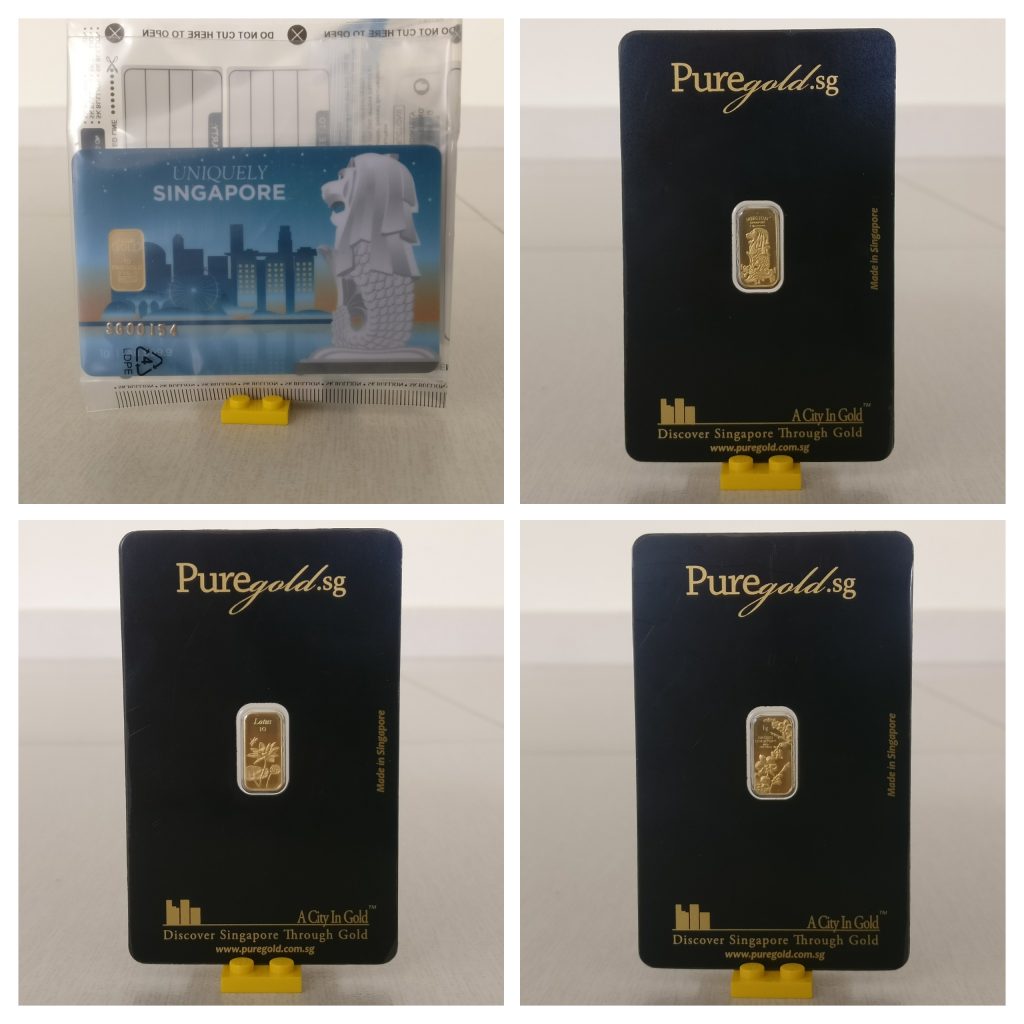 It is NS50 celebration month! As such, there are couple of good discount codes on Lazada (Singapore). Hence, used the opportunity to purchase gold from Nadir Metal Rafineri and PureGold via the SK Bullion and PureGold shops respectively.
All in all, managed to purchase 20 pieces of 1 gram gold at a total cost of S$942.87 which works out to be approximately S$47.14 per gram of gold.
10 pieces of Nadir Metal Rafineri's Uniquely Singapore at S$48.55 per piece; and
10 pieces of PureGold at S$45.74 per piece.
Disclaimer
The content on this post is for informational purposes only. It does not provide investment advice, nor is it an offer or solicitation of any kind to buy or sell any investment products. Rates and terms set on third-party websites are subject to change without notice. This is an independently-owned site and all opinions expressed are my own.