Returning Amazon Prime Now items is easy-peasy
The Amazon Prime Now offers household items and essentials you need every day plus the best of Amazon with free 2-hour delivery. It is now available in Singapore. I got a lemon (nope, not the fruit) on one of my purchase and decided to return it. It turns out that returning Amazon Prime Now items is a pretty straight-forward process.
The lemon. Nope, not the fruit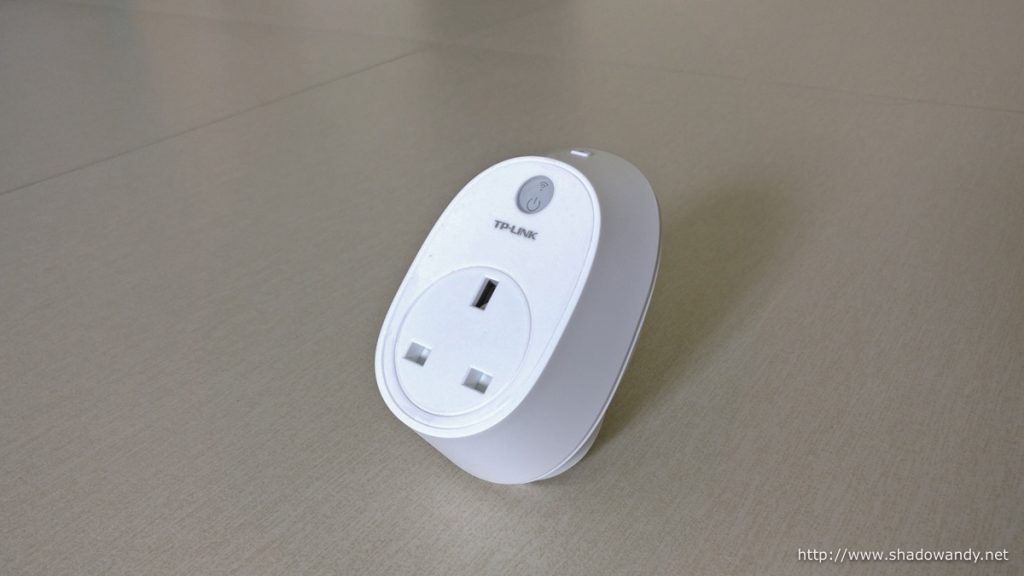 I bought the TP-Link HS110 Smart WiFi Plug a short while back and it failed to work after one day (of usage). It tripped my main circuit board along with it. I tried changing the fuse and it did not revive. As a final resort, I emailed the Amazon representatives about the lemon and they initiated a item return with no questions asked.
Printing the Return Label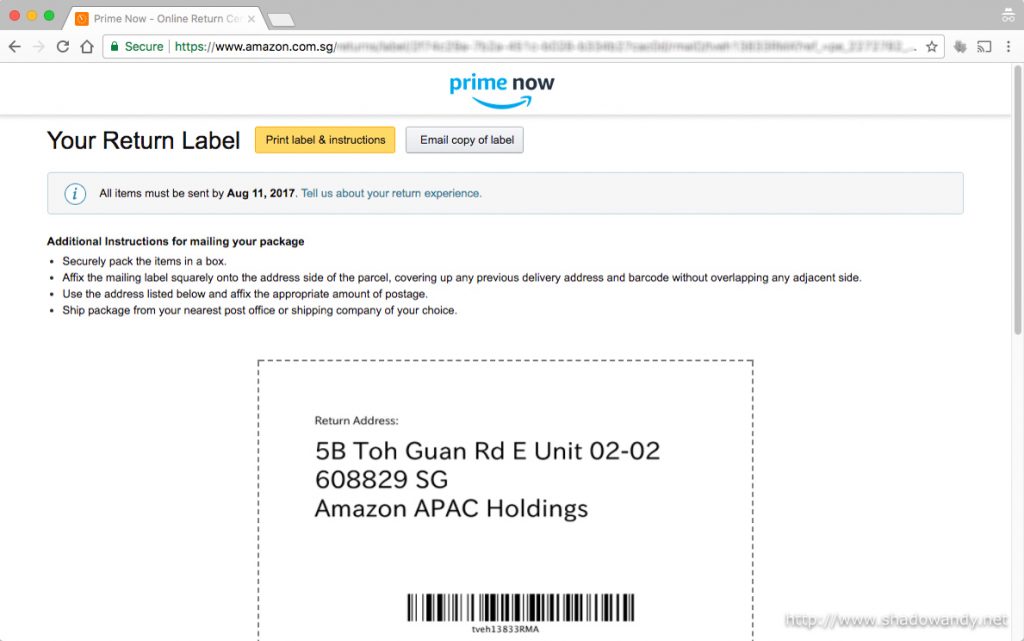 As the item has been marked for return, Amazon has got a page where I can read up on the instructions for the return. It is the same process of returning items to Amazon.com.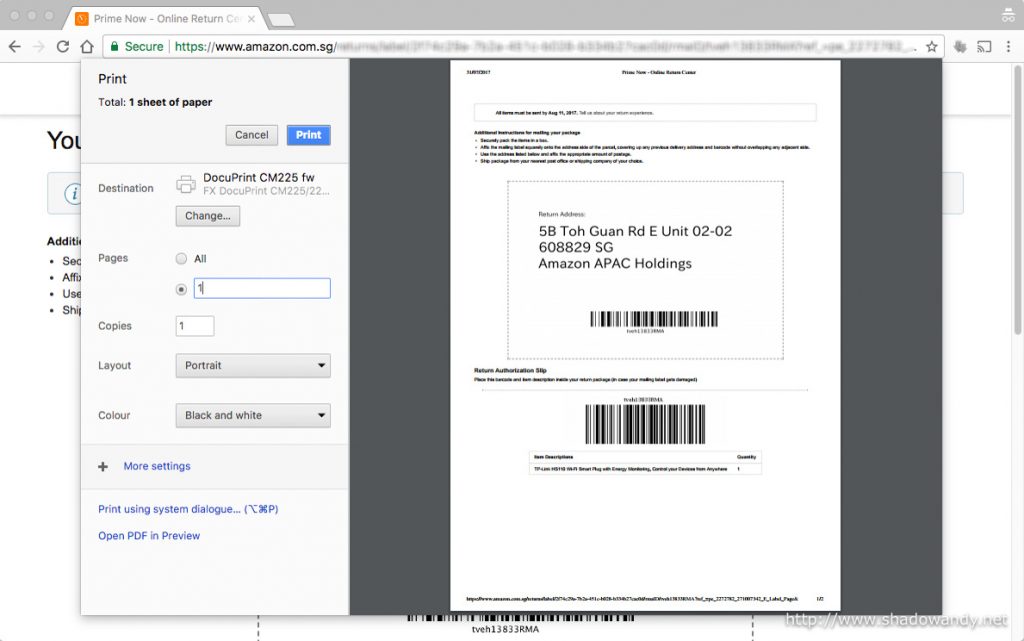 I just need to print the Return Label and follow the instructions for the return:
Securely pack the items in a box.
Affix the mailing label squarely onto the address side of the parcel, covering up any previous delivery address and barcode without overlapping any adjacent side.
Use the address listed and affix the appropriate amount of postage.
Ship package from my nearest post office or shipping company of my choice.
It is pretty convenient. Instead of going via Speedpost, Ninja Van or Ta-Q-Bin, I decided to use the plain old snail mail by dropping off the parcel at Singapore Post (with the help of my wife).
Packing the faulty item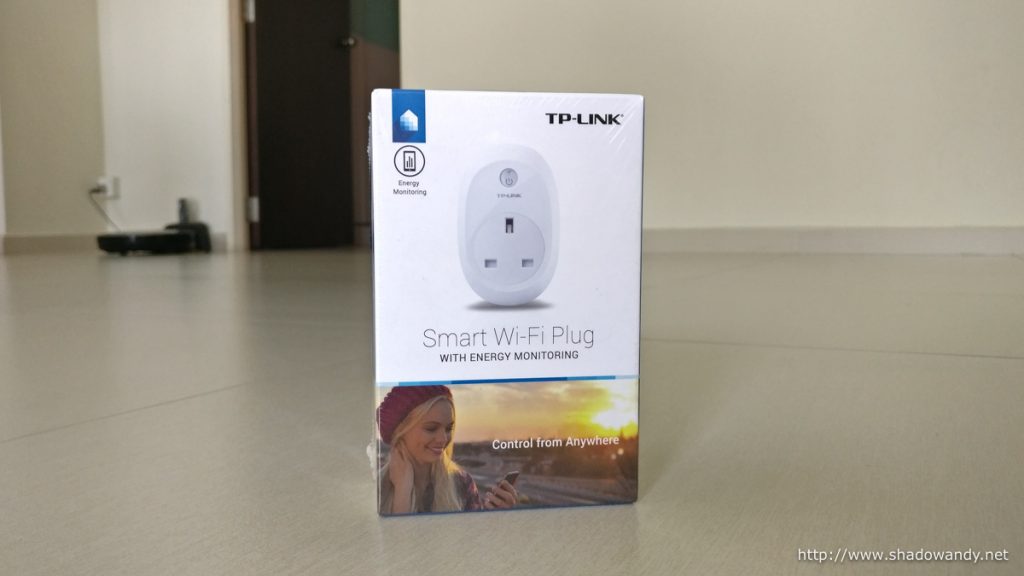 The TP-Link WiFi Smart Plug's packaging is pretty decent and the smart plug is protected by another carton shell within the box. I reckoned that it is good enough for shipping (provided that the postman don't toss and sit on it).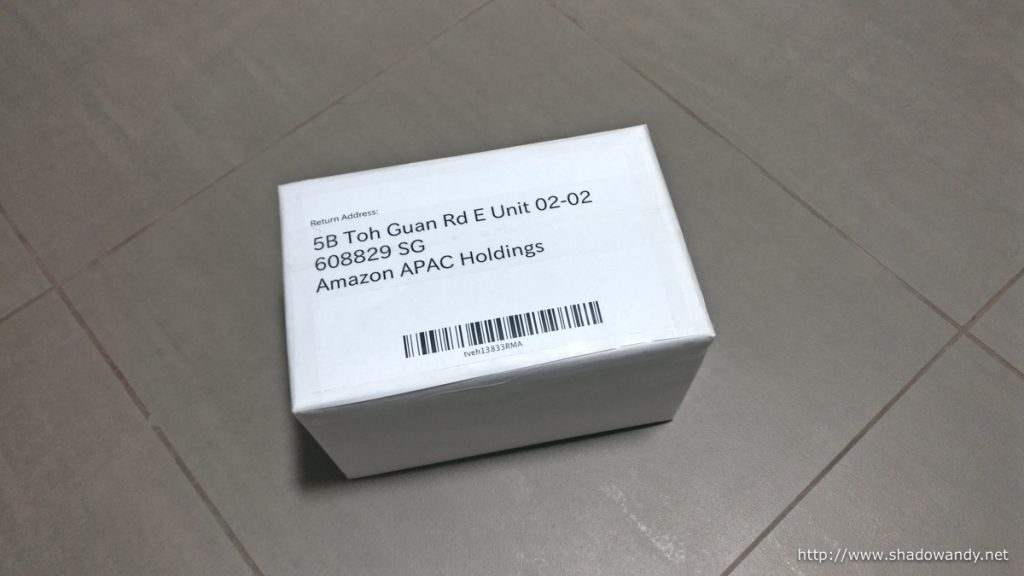 I stuck the return authorization slip onto the smart plug's box before wrapping it up with another few layers of paper. Lastly, I affixed the address squarely on to the parcel. I guess it is good to go!
Dropping it off at Singapore Post
My wife helped to get the stamps and dropped it off at Singapore Post (SingPost) on 1st August 2017. The postage costs S$1.70 for the return. I did not opt for registered article. Well, what could possible go wrong with a local delivery by the national postal service provider? Right? I am crossing all my fingers (and toes) when I decided not to go for registered postage.
Receiving and Processing Refund
After almost a week, I finally received the following email from Singapore Prime Now.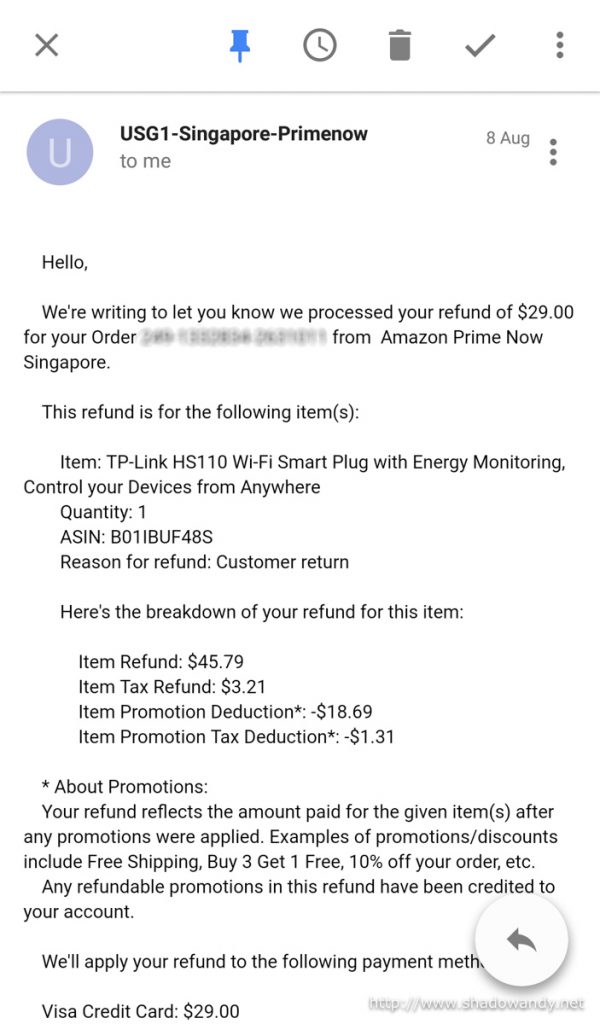 Great! The item safely reached Amazon. Phew.
Conclusion
The entire return-item-to-Amazon process is fuss-free. I am not sure if Amazon take back food stuffs like ice cream, vegetables, etc. Why did I say ice cream? I bought a few tubs of Ben & Jerry's ice cream recently and the Amazon Prime Now delivery guys mentioned that I could contact Amazon should anything be amiss.
The only hassle is probably dropping the parcel at Singapore Post which there are alternatives like Ninja Van or Ta-Q-Bin which offer parcel pickup, albeit at a higher cost.
As usual, great customer service from Amazon.
Treat shadowandy!
If these step-by-step guides have been very helpful to you and saved you a lot of time, please consider treating shadowandy to a cup of Starbucks.