The TP-Link HS110 is a WiFi Smart Plug with energy monitoring capability. You can remotely switch connected appliance on or off and also monitor the appliance's energy consumption. It is great for those plugs that are hidden and out-of-sight (e.g. TV console).
I managed to get it via Amazon Prime Now (Singapore) for S$29 after a S$20 discount coupon ("VISA20"). Most brick-and-mortar stores are retailing for S$65.
TP-Link HS110 WiFi Smart Plug
Wireless
802.1b/g/n
1T1R
Physical button for power toggling
Yes
Overcurrent Protection
Yes (fused)
Energy Monitoring
Yes
Mobile App Support
Android, iOS
Logitech Harmony Support
No
Amazon Echo Support
Yes
IFTTT Support
No
Package Contents

In the package, you will find:
Quick start guide;
Technical Support FAQ;
Compliance information; and
GNU License information.
The build of TP-Link HS110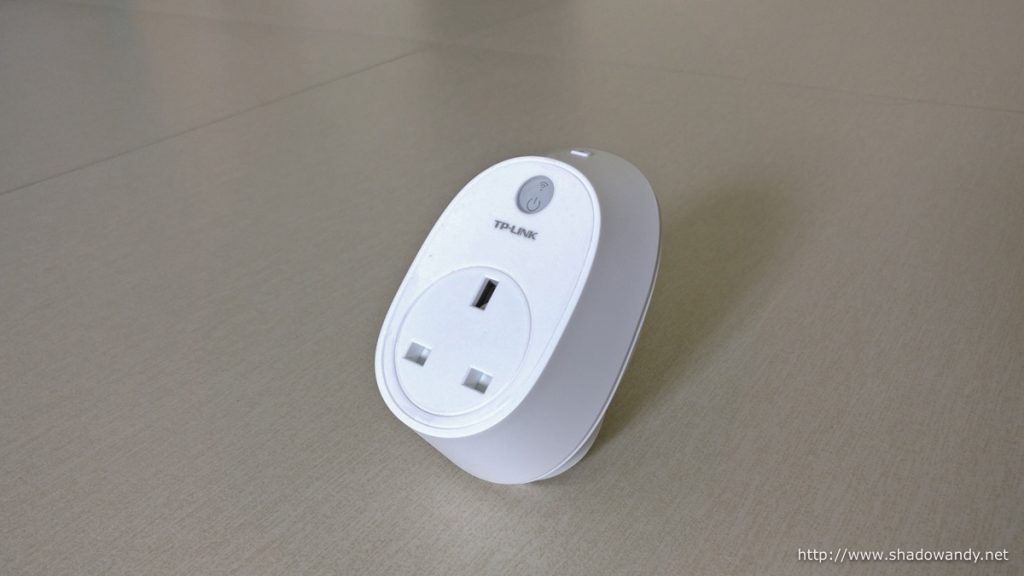 I got the UK plug model which shouldn't differ much from other variants except for the pin/ connector, voltage and support for wireless channels.

The TP-Link HS110 WiFi Smart Plug is generally made of plastic except for the electrical connectors. It fits well in both my single and double socket outlets without obstructing other electrical sockets or being obstructed by walls.

On the front face of the TP-Link HS110 WiFi Smart Plug, there is a physical button for toggling the power to the connected appliance. With this, you can manually switch on or off your appliance without going through the TP-Link Kasa app.
Behind this button are the status indicators for WiFi and power state. The indicators glow thru the translucent button.
At the top of the smart plug is the settings button. It allows you to initiate the WiFi configuration process or reset the it to factory defaults.

The TP-Link HS110 WiFi Smart Plug has a fuse to provide overcurrent protection.
TP-Link Kasa
The TP-Link HS110 Smart Plug can be controlled via the TP-Link Kasa mobile app (Android and iOS) and Amazon Echo. There is a Kasa Smart Home Skill for Alexa.
The set up of a new TP-Link Smart Plug is pretty much guided. I managed to have it connected to my home network within 10 minutes.