Amazon Lightsail Review – The user-friendly VPS for almost anything
I started searching around for web-hosting solutions after my current web host, Oryon Networks, informed me that they are no longer offering shared web hosting services. I am out of touch with current web hosting offerings and the research took a while. I looked at shared web hosting packages and virtual private server (VPS) packages from DigitalOcean, Linode and Amazon Lightsail. I decided to test drive Amazon Lightsail to host my current blog. That is, www.shadowandy.net.
A little of history and baselining
I have been with Oryon Networks for 10 years (since Aug 2007). That was also when I started blogging on various blog platforms (e.g. Movable Type, WordPress). I settled for WordPress as my long term blogging platform.
The journey with Oryon Networks started smoothly but it got a little "problematic" these couple of years.
Website momentarily inaccessible from a couple of minutes to tens of minutes a few times a day
In one instance, both the local and backup storage crashed resulting in lost of data
Weird reasons stating that my WordPress plugins got vulnerabilities just because they are not the latest versions. Well, their Apache and MySQL are not kept up to GA versions either
Firewall rules blocking my IP and the reason was that I am malicious (when I was doing my own cPanel backup to my home's FTP server to avoid another catastrophic failure on Oryon's equipment)
The list continues. My friends and colleagues would probably heard me rant every now and then whenever I encountered issue with the web hosting – be it high server load or unsatisfactory answers from help desks. For example,
Q: My website is not loading now and the CPU load is x.xx (8 CPU) and the memory usage is high now (1pm) for the past 1 hour. <screenshots attached>
A: [Replies at 2pm] Your website is loading fine and we do not see any issues with the server. The load is fine.
My current shared web hosting plan has got the following specifications:
Specs
 Limits
Disk
5GB
CPU
8 (shared)
Data Transfer
50GB
RAM
1GB
Addon Domains
99
I/O
1MB
Alias
99
IOPS
1024
Email Accounts
99
Processes
100
Management
cPanel
Entry Processes
20
Using Pingdom Website Speed Test, the average time to complete loading the front page is 7 seconds when the website is on Oryon Networks shared web hosting plan.
Amazon Lightsail – The VPS killer
What is Amazon Lightsail?
Amazon Lightsail is a all-in-one virtual private server with Amazon Web Services (AWS). Lightsail plans includes everything you need to jump start your project – virtual machine, SSD-based storage, data transfer, DNS management and static IP.
So you won't get the fancy cPanel. All you will get is SSH access (for Linux-based) or RDP access (for Windows-based) VPS.
Why choose Amazon Lightsail?
Firstly, Oryon Networks offered me their managed virtual server plans that starts at S$109 monthly. My current plan is S$10 monthly and it started off as S$5 monthly when I was with them when they started back in 2007. So the price is a huge no from me. Amazon Lightsail, Linode and DigitalOcean got similar managed VPS plans. For the record, Oryon Network seems to be on DigitalOcean network.
Secondly, I am comfortable with administrating Linux boxes. It is not that I interact with Linux machines frequently in my course of work but I do have to tinker with them once in a while for work or exploratory purposes. So I am perfectly fine without a managed VPS service. Amazon Lightsail, Linode and DigitalOcean got (unmanaged) VPS plans as well.
Thirdly, I just need WordPress or WordPress on LAMP stack.
Lastly, I am comfortable in doing my own backups to remote site(s). There is nothing difficult in doing a snapshot or manual cron that does database dumps and file system backups.
It appears that all (i.e. Lightsail, Linode and DigitalOcean) meets the criteria. Well, just take it that I decided to test drive VPS on Lightsail as they offer the first month free (on the US$5 plan). If it does not work out, I can always switch (to Linode or DigitalOcean).
Why the $5 plan and not the higher plans?
Yes, you heard me right. I am starting off with the $5 plan. If it doesn't make my needs, I could just snapshot the instance and start a new $10 or $20 instance off that snapshot.
The Amazon Lightsail $5 plan gives me the following:
1 vCPU
512MB RAM
20GB SSD Storage
1TB Data Transfers
Compared to my current shared web hosting plan from Oryon Networks, this seems like an awful downgrade in terms of CPU and RAM. These two components pretty much determine the base performance of the website. You will say that there is no way this can meet the needs of your website if it is occasionally slow under the current specifications on Oryon Networks shared web hosting plan.
| | Oryon | Amazon Lightsail $5 Plan |
| --- | --- | --- |
| CPU | 8 | 1 |
| RAM (MB) | 1024 | 512 |
| Data Transfer (GB) | 50 | 1000 |
| Storage (GB) | 5 | 20 |
Well, like I said, it is a test drive despite it being on production. I will just redirect the A records of www.shadowandy.net back to Oryon Networks should the Amazon Lightsail $5 plan have issues handling the load.
Starting a WordPress on Amazon Lightsail from scratch
I have set up virtual machines (on virtualization platforms). I have set up applications using docker (Node, Hyperledger Fabric, MongoDB, etc.). I have never tried virtual private server (VPS).
Nonetheless, let me walk you through the process.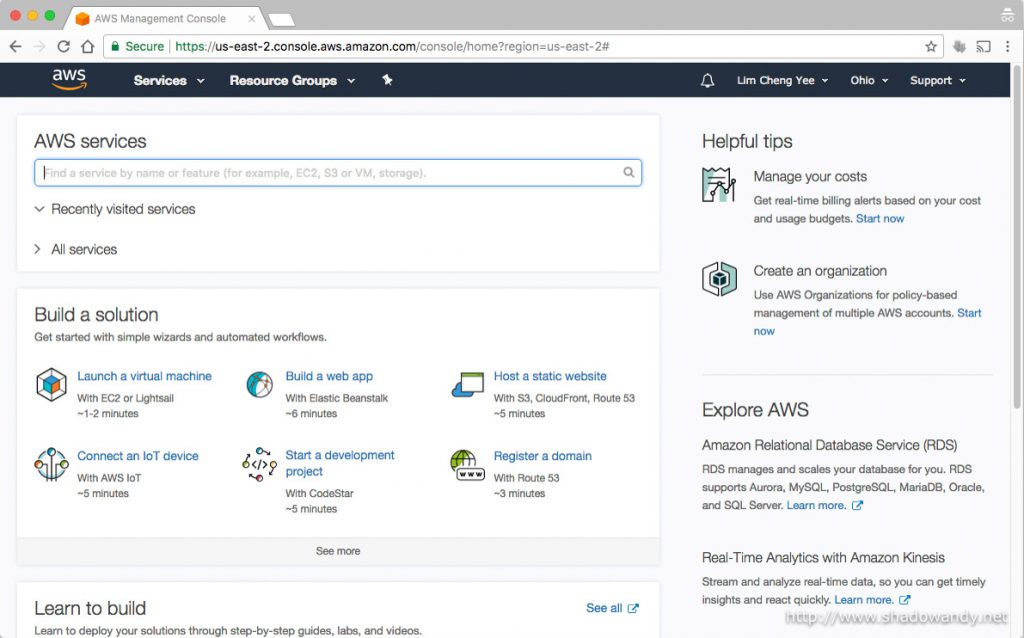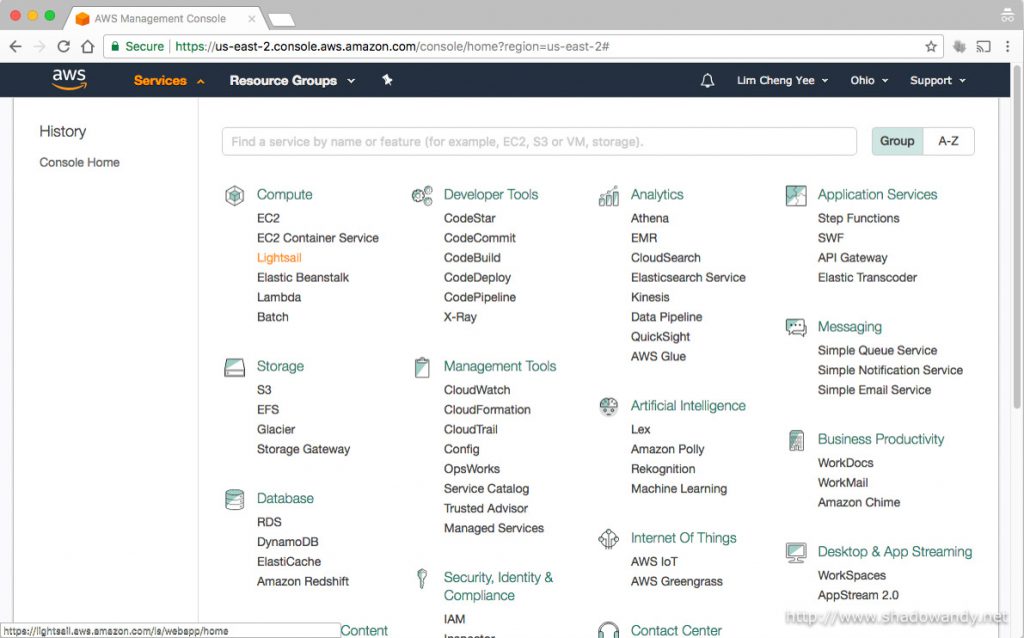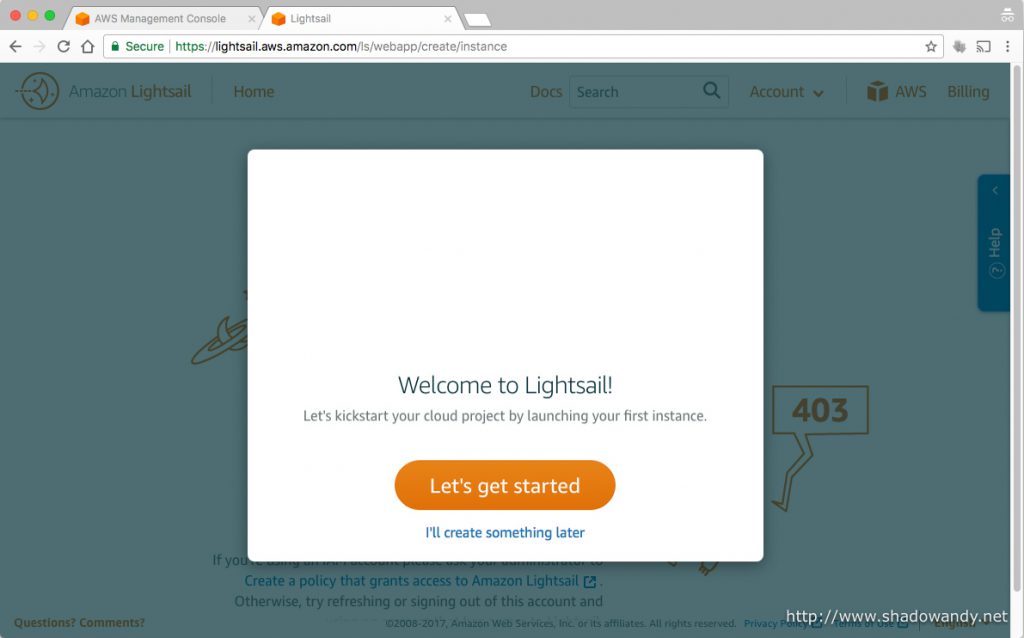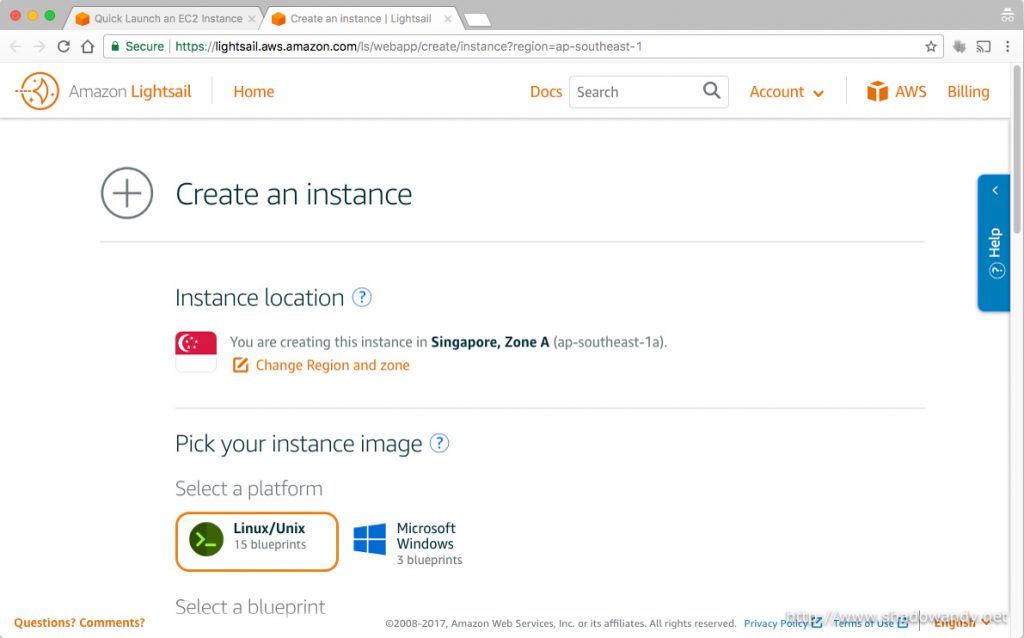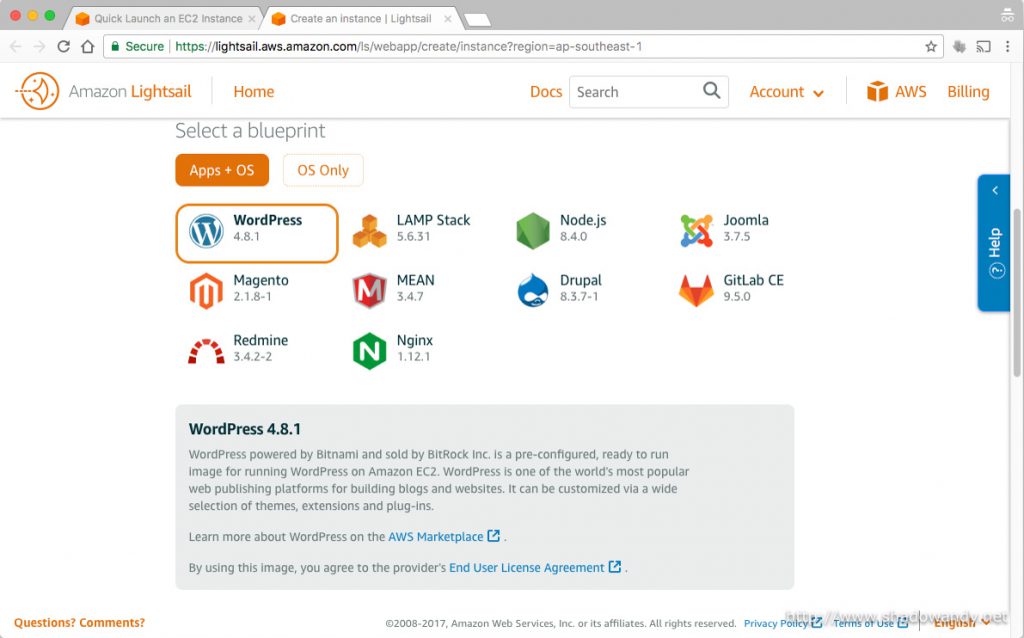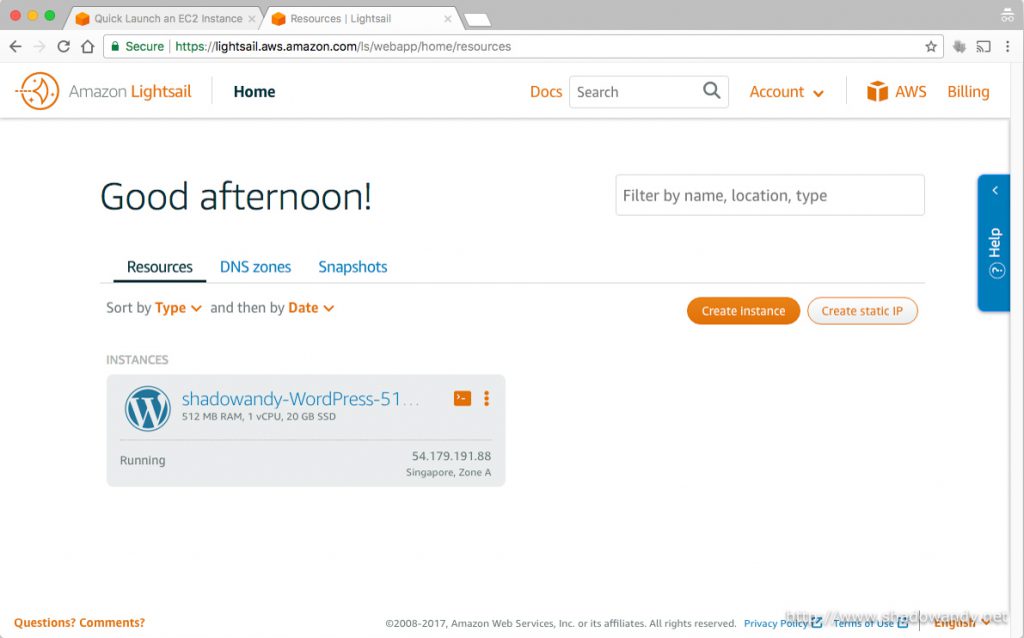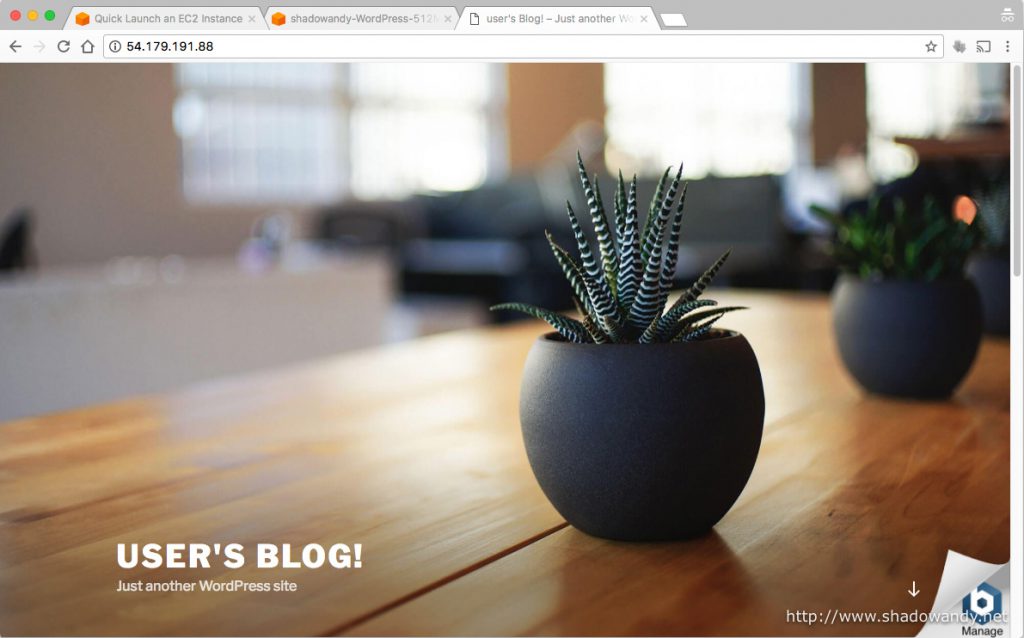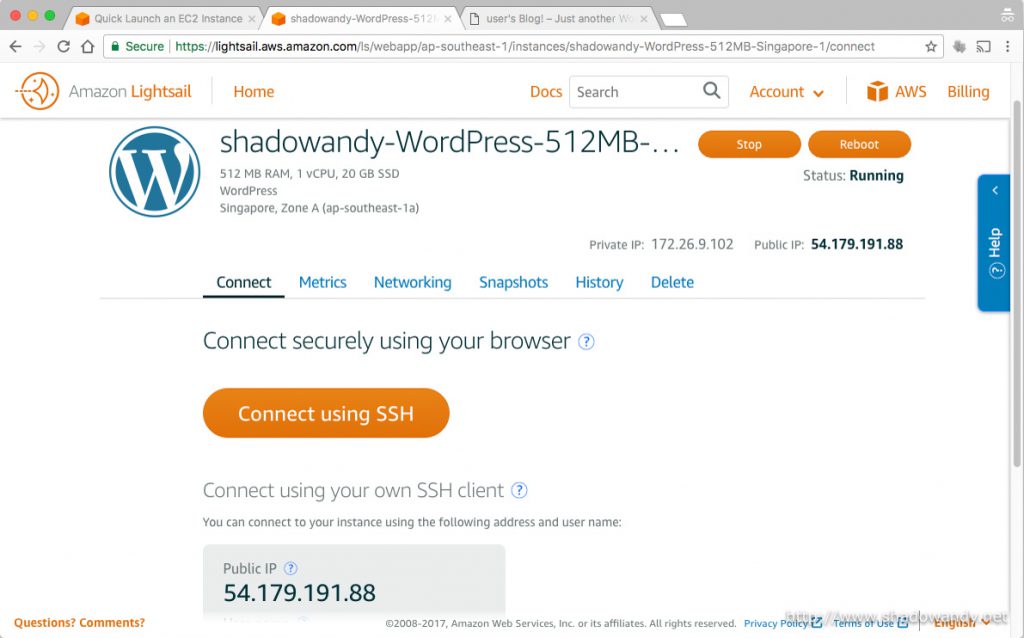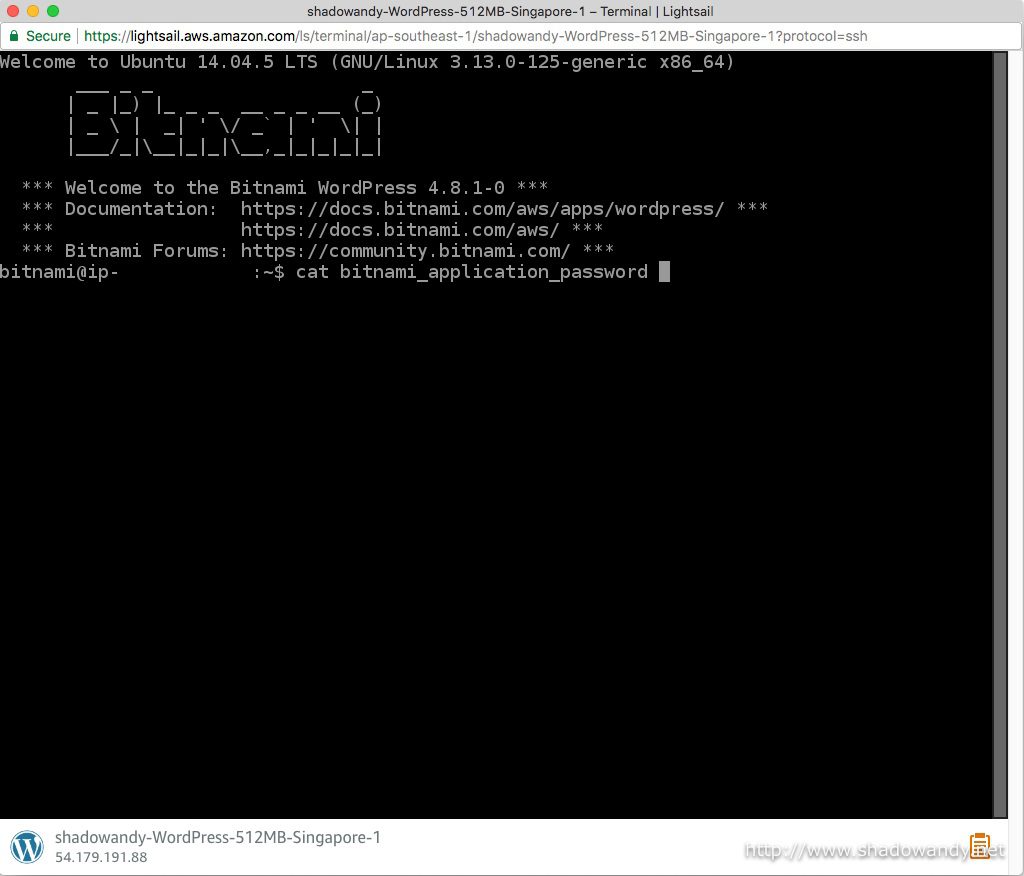 The process of starting a WordPress instance on Amazon Lightsail is straight-forward. What is left is just the migration of contents from my current WordPress on Oryon Networks to this one on Amazon Lightsail. For the WordPress migration, I am using the All-in-One WP Migration plugin.
In case you are wondering, you are now reading this entry on Amazon Lightsail.
Rounding things up
Performance of the WordPress on Amazon Lightsail $5 plan
Personally, I felt that the website performance seems better than when it was on Oryon Networks shared web hosting. I performed the Pingdom Website Speed Test on random occasions during the first three days of migrating to Amazon Lightsail and the front page loads between 2 to 7 seconds.
My WordPress admin console also seem more responsive with the same amount (and in fact more plugins).
Well, it could be just because the VPS is still running in. Shall check back again once in a while to make sure it is fine.
Behind the scenes
I have switched from the WordPress blueprint to LAMP stack blueprint for the Amazon Lightsail instance. It gives me more control over the htdocs folder which I had during the shared web hosting days. Website performance remains better than Oryon Network's shared web hosting plan.
I have also written a set of bash shell scripts to perform periodic backups:
Archiving the files in the account
Dumping all the databases in MySQL and archiving them
Dumping the crontab entries
Transferring the backup archives to a remote FTP server
It has been a while since I did some shell scripting. It does brings back some memories.
A piece of warning/ advice
Before you all start jumping into VPS plans. Do let me warn you that you, yourself, are responsible for:
Performing regular backups or snapshots
Service recovery from any outages
Operating system and application patching
Malware scanning
and probably more
If you are uncomfortable in performing those, do still consider using a managed service. With a managed service, you can get help from your friendly web hosting company should you run into technical issues.
Well, that is all. If you are looking around for unmanaged VPS. Do check out Amazon Lightsail.
This site contains links to
Amazon
. These links will take you to some of the products mentioned in today's article. As an Amazon Associate, I earn from qualifying purchases.