Ring Video Doorbell 2 Review – Upgrading your old doorbell to a smarter one
Comparing the Ring Video Doorbells
Doorbell
Doorbell 2
Doorbell Elite
Doorbell Pro
Field of view
Horizontal: 180 degrees
Horizontal: 160 degrees
Vertical: 90 degrees
Battery life
6-12 months with normal usage
N\A
Wireless
2.4 GHz 802.11 b/g/n
2.4 GHz or 5.0 GHz 802.11 b/g/n
Motion detection
180 degrees (infrared heat detection)
160 degrees (camera)
Analyzes camera view and generates motion alerts within user-set motion zones
Video resolution
720p
1080p
Power – Hard-wired
Yes
(8-24 VAC)
No
Yes
(16-24 VAC/~30 VA)
Power – PoE
No
Yes
No
Power – Battery
Yes
Yes
(quick-release)
No
Considering the requirement that I want to operate the video doorbell wirelessly without any additional wiring, the Ring Video Doorbell 2 is one of the best candidates.
Unboxing the Ring Video Doorbell
In the Ring Video Doorbell 2 package, you will find the following:
Retrofit Kit plate
Miniature level
Screwdriver handle
Two-sized screwdriver bit
Screws
Screw anchors
Drill bit for anchors
User manual
Installation instruction guide
Wire Extensions
Wire nuts
Corner wedge
Mount wedge
Two interchangeable faceplates in Satin Nickel and Venetian
A closer look at the Ring Video Doorbell 2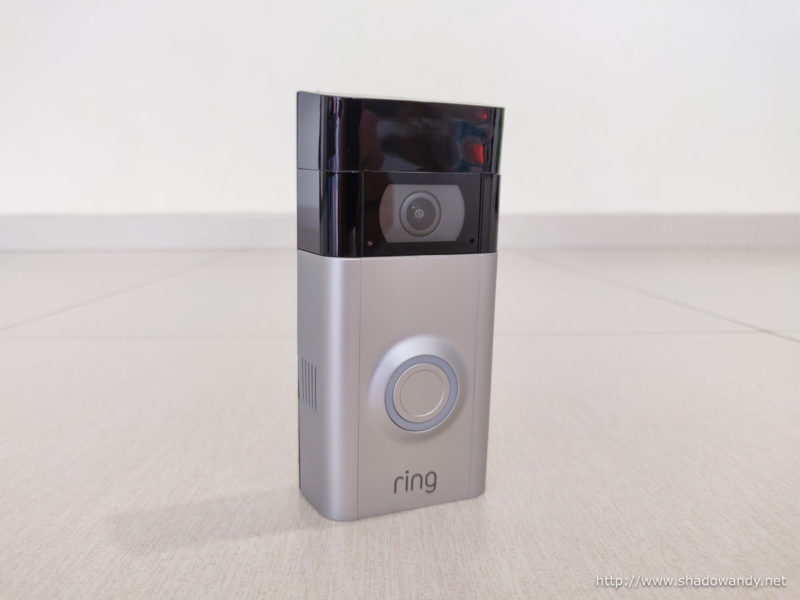 The Ring Video Doorbell 2 is not a small device. It measures 128 x 64 x 28 mm. To put it into perspective, it is like the size of a 355 ml (12 oz) canned drink. The slim and tall canned drink.
Treat shadowandy!
If these step-by-step guides have been very helpful to you and saved you a lot of time, please consider treating shadowandy to a cup of Starbucks.