The QNAP TS-253D is a quad-core 2.5GbE two-bay NAS for professionals and prosumers requiring a localised backup as part of their comprehensive data backup strategy. Consumers can also practice good backup hygiene by backing up documents and memories (photos, videos, etc.) on their laptops and mobile phones to a local NAS like the TS-253D and an off-site backup in the Cloud. The TS-253D comes with an HDMI output so you can reminisce these digital memories on the TV. In this review, we will be looking at the QNAP TS-253D two-bay NAS that retails for S$609.99 on Lazada.
Compared to a similarly spec-ed NAS like the Synology DS720+, the QNAP TS-253D has better specification (4GB vs 2GB RAM, 2.5 GbE, etc.) at a lower price point at time of writing.
Technical Specifications
Model
QNAP TS-253D (4GB)
Processor
Intel Celeron J4125 quad-core 2.0 GHz processor (burst up to 2.7 GHz)
Memory
4GB DDR4 (Expandable to 8GB)
Encryption
Yes (AES-NI)
Storage
2 x 3.5"/2.5" SATA
Networking
2 x 2.5GbE
Connectors
2 x USB3.0
3 x USB2.0
1 x HDMI 2.0
PCIe
1 x Gen 2 x4
Dimensions (mm)
168 x 105 x 226
Weight
1.55 kg
Power Consumption
12.448 W (Access)
8.198 W (HDD Hibernation)
Noise Level
17.1 dB(A)
SRP
S$609.99 (4GB)
What breaks or makes a NAS? Hardware? Software?
Over the years, I have used NAS from brands like D-Link, IBM, ASUSTOR and Synology; but it is my first time using one from QNAP. Most-if-not-all have access to good hardware. However, the cost (and subsequently the retail price) depends on whether can they achieve economies of scale. One important aspect to consider for a NAS nowadays is the user experience (UX) of using or operating it. Comparing an intuitive graphical user interface that is crystal clear on where to click against a command line interface that you need to key in a chunk of alien looking commands, which would you prefer? I hope is the former. Basically, the body (hardware) and soul (software) must work well together to deliver a pleasant experience.
Lets check out the QNAP TS-253D.
Unboxing the QNAP TS-253D
Within the QNAP TS-253D package, you will find the following:
QNAP TS-253D 2-bay NAS
Power adaptor
Power cord
2 x Ethernet patch cord
2 pack of screws
Installation guide and other reference materials
Overall built of the QNAP TS-253D
The outer shell is mainly plastic (or rather non-metal) except for the inner metal structure/frame. The faceplate at the front has a glossy finishing (aka fingerprint magnet) and can slide out towards the left to expose the disk trays behind it. The grey portion on the right actually has LED indicators hidden underneath and they light up just beside the symbols (i.e. network, disk activity).
At the back of the TS-253D is where majority of the connectors are located: HDMI 2.0, USB 3.0, USB 2.0 and 2.5 GbE. Near the bottom, you will find the power connector and Kensington lock slot. On the top portion is the 70mm system fan and the PCIe expansion slot for 10 GbE or M.2 SSDs to accelerate applications.
For those who are interested in making this a Home Theatre PC (HTPC), you will be happy to hear that the HDMI 2.0 is capable of 4K @60Hz and you can hook up a keyboard and mouse directly to the QNAP TS-253D.
The drive trays can be removed without the need for any tools. You just need to press the release catch and pull the drive tray out of the chassis. Installation is simply sliding in the drive tray until it clicks and locks in place.
It has a metal main structure. Behind the drive trays is the SATA backplane where the hard drives connect to. The backplane could have been smaller or have the excess board material removed to further improve the air flow. That being said, it could be unnecessary as my hard drives remain pretty cool during this period of review. On the right is where the main board resides. This is also where additional RAM module can be installed to bring it to a total of 8GB.
The drive trays do not require any tools to install 3.5-inch hard drives. On the other hand, you will need a screw driver and the included pack of screws to install 2.5-inch hard drives or SSDs.
The drive tray make use of the retaining clip to lock the installed 3.5-inch hard drive in place. The studs on the retaining clip are aligned to the screw holes on the sides of the hard drive to prevent them from shifting. Lastly, the blue grommets help dampen any vibration to minimise the overall noise. In my experience, the grommets really help in reducing noise.
Setting up the QNAP TS-253D
Installing the hard drives
I have a couple of Seagate IronWolf 10TB NAS hard drives sitting around so I will be using them in the QNAP TS-253D. Installing the 3.5-inch hard drives is straight-forward as you will not require any additional tools (or screws). I installed them in less than a minute. To install, you just need to:
Remove the drive trays from the chassis
Pop off the retaining clip on both sides of the drive tray
Rest the 3.5-inch hard drive in place
Align the screw holes (of the hard drive) with the holes along the side of the drive tray
Pop back the retaining clip (that you have removed in step 2)
Slot the hard drives back into the chassis
Initial setup of the QNAP Turbo Station (QTS)
After hooking up the TS-253D to the power and network, it is time to get the operating system, QNAP Turbo Station (QTS), installed. Similarly, you do not need to any additional application other than a web browser to set it up. Surf to install.qnap.com or the IP address issued to the QNAP NAS to begin the guided setup.
Using the QNAP Turbo Station (QTS)
Overview
The clean looking QTS login page reminds me of Synology's Disk Station Manager (DSM). The first login experience tour informed me of several handy features or applications that I may need. User experience (UX) wise, it is not fantastic as the application flow varies among the apps. That is, clicking on the side tab changes the main display area in one app while it launches a new application in another. In some cases, the same app exhibits both behaviours of changing main display area and launching another application.
Storage management – Storage & Snapshots
QNAP has the concept of storage pool, thick/thin volumes and static volume. Each of the volume types comes with their own pros and cons. You can read more about static, thick and thin volume at QNAP knowledge base. For a two-bay NAS whose main purpose is data backup, I chose to create a static volume instead and forgoing snapshot capabilities. You may want to choose other options if you have use for snapshots. After this initial time-consuming decision (of determining what type of volume do I need), the rest of the set up is straight-forward and similar to my previous experience of using NAS.
QNAP App Center
Nowadays, NAS have means to expand/extend their capabilities via add-on/packages. For QNAP NAS, they have an App Center that allows you to install add-on that you need.
For example, if you are intending to use the NAS to backup the photos on your mobile device like what Google Photos is doing, you can install the Photo Station and Qsync Central to synchronise your image gallery onto the NAS and display them via Photo Station or Qphoto on mobile devices. On the other hand, if you are into software development, you can use the Container Station to host your LXC or Docker containers.
Solutions
Backing up digital memories – photos, videos
Storage capacity is (typically) an issue for mobile phones nowadays. Saw a nice scenery – snap a picture. A nice street performance – take a video. Family member's birthday – take a video and a couple of photo collages. Before you realise, the mobile phone is out of storage space. This is where a NAS can be used to extend the mobile phone storage space by offloading such precious digital memories from your mobile phone.
With QNAP's Photo Station and Qsync Central, you can actually set up automatic content synchronisation between your mobile phone and the QNAP NAS. To view the photos stored on the Photo Station, you can either do it via a web browser or the Qphoto app on the mobile. You will basically be running a private Google Photo equivalent. Of course, it is not as feature rich as Google Photos now but who knows, maybe it might be in the future?
Installing Photo Station is easily done via the QNAP App Center. Once installed, it will discover the photos on the NAS's designated folder(s). You will be able to manage your photos via the Photo Station via web browser or mobile app and can easily categorise the photos into albums like what I have done for my recent trips.
On the mobile device, you can use Qphoto to view the photos stored on the QNAP NAS. Similarly, albums can be created to group or better manage the photos. Additional photos can also be manually uploaded via Qphoto to be stored safely on the QNAP NAS.
Hosting container workloads
The QNAP App Center indeed has a lot of application but there will be times when you cannot find the one you need. This is where QNAP Container Station can (potentially) fill the gap. The Container Station runs LXC and Docker images directly on the QNAP TS-253D. It is a powerful feature but it also requires sightly more technical knowledge compared to QNAP App Center as there will be situations where you are required to fill in configuration parameters for the application you are installing. For example, the settings for the MongoDB or Rocket.chat.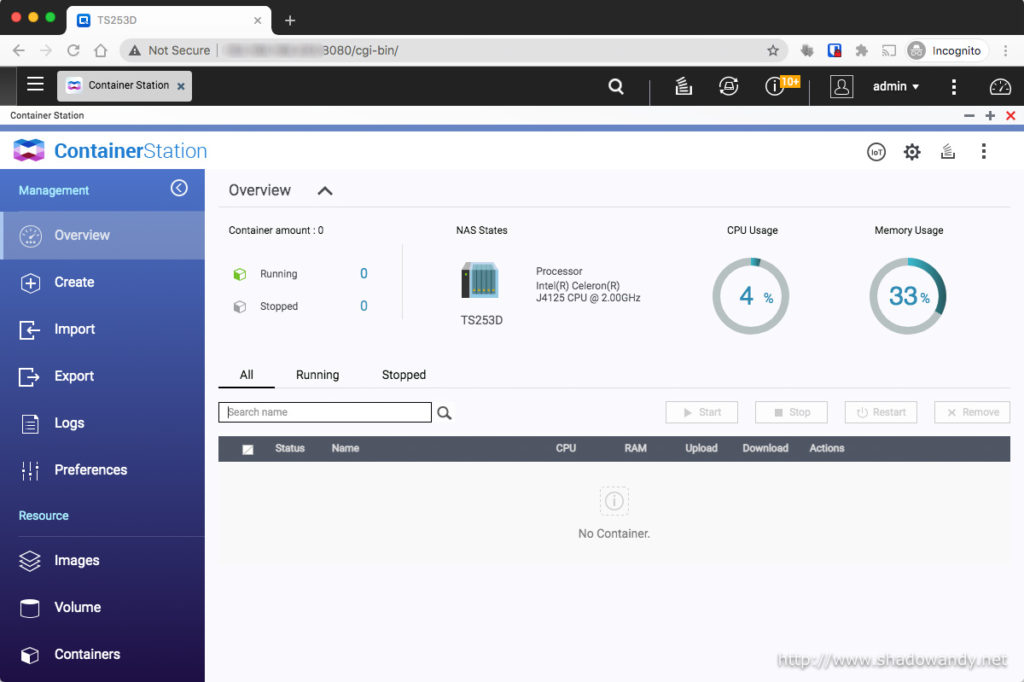 The Container Station's UX/UI is straight-forward and easy to understand. An overview of the health of the platform (i.e. Container Station on QNAP TS-253D) and the running containers. Settings of the platform in terms of network and registry. Lastly, a mean to look at the various resources that are created for use by the containers.
Pi-hole on the QNAP TS-253D
Pi-hole is a Linux network-level advertisement and Internet tracker blocking application which acts as a DNS sinkhole. Basically, it blocks advertisement and Internet trackers. My devices, as long as it is using the Pi-hole as DNS server, will see less advertisements. It is a niffy application that I have been using for years now. Instead of running it off a Raspberry Pi or even a computer, I can also run it as a container on QNAP Container Station. Let me bring you through the steps of creating a Pi-hole container on the QNAP Container Station.
With the container up and running, you can also look at the performance metrics of the individual containers. If required, you can also execute commands or get interactive access to the containers. You can also change some settings for existing containers.
For those who are more familiar with "Docker compose", you will be glad that you can actually paste the entire docker-compose.yml into the ContainerStation instead of using its guided process.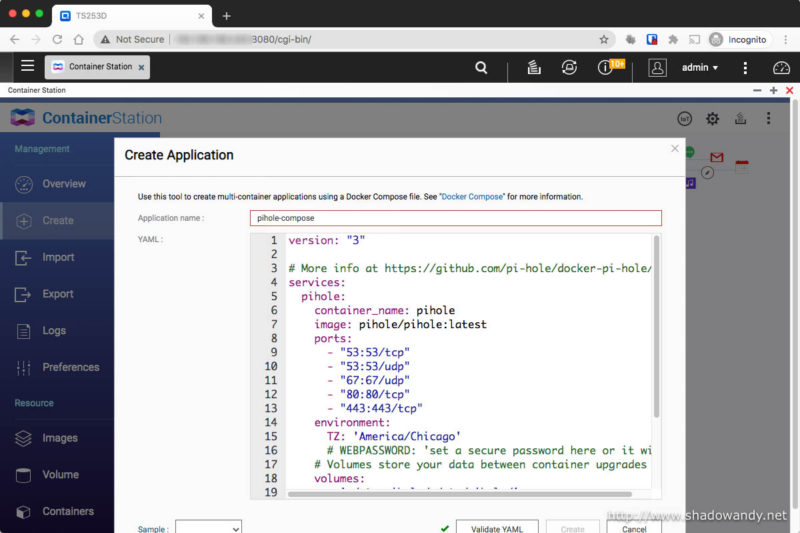 Conclusion
There are rooms for improvement with regard to user experience (and user interface) of QNAP Turbo System. In multiple occasions, I was surprised by a new application pop up when I was expecting the display area to change after clicking on a tab. There are also instances (i.e. system dashboard) where I was overwhelmed with information and not knowing where to focus. I hope that the QNAP QTS UX will improve in upcoming releases.
In terms of hardware, the QNAP TS-253D is able to handle the typical data and backup workloads of a home consumer (or prosumer). On top of that, it is also able to handle a couple of containers effortlessly. Being a two-bay NAS, you will need to forgo half of your raw combined hard disk capacity. The two-bay profile makes it easier to hide in the electrical DB (distribution board) box. If physical space and resource is not an issue, I would recommend going for a four-bay. The 4K @60Hz HDMI 2.0 output is a good touch as it allows you to use the TS-253D as Home Theatre PC for direct multimedia enjoyment should you have this need.
All in all, the QNAP TS-253D two-bay NAS does exactly what a NAS should do. To top it off, Container Station is pretty good!