DSM 7.0 – DS Cloud broke; FolderSync & WebDAV for two-way folder sync
If you have been using DS Cloud to synchronise folders between your Android mobile phone and Synology NAS (on DSM6), you will be disappointed that DS Cloud is not supported on DSM7. The DS Cloud's two-way folder synchronisation feature enabled me to free up storage space on the mobile by shifting dated files out of the Synology NAS sync-ed folder to another folder. This shift would appear as though the files were deleted on the server-side, prompting DS Cloud (on the mobile device) to delete off the files. It is a niffy trick to manage storage space on the mobile device but it no longer works on DSM7. Fortunately, I managed to replicate this two-way sync using FolderSync Android app and Synology's WebDAV Server package. Continue reading the guide if you want to know how.
A little bit more details on the DS Cloud and storage trick
By storage trick, I meant "unlimited" storage space on the mobile phone. Nowadays, mobile phones have fixed storage capacities like 128GB and 256GB while some high-end phones sport up to 512GB. My Google Pixel 5 max out at 128GB and I depend heavily on DS Cloud's two-way syncs (and deletes) to manage the storage space. I had been using this "feature" pretty much ever since I was on Synology NAS, up until my current Synology DS1821+.
In the past, I would probably review the photos and videos to decide which few to forgo or move to the Synology NAS. This review process is both tedious and lengthy. With two-way sync, I can easily shift a couple of months worth of contents off the Pixel 5 and have them available for viewing via Synology Moments (which now has been replaced by Synology Photos in DSM 7.0). Hence, two-way sync is a fast and efficient way of managing mobile phone's storage. However, DS Cloud is not working on DSM 7.0.
Still don't understand how the shifting is done? Lets say that a particular folder on the mobile device (e.g. DCIM/Camera) is synchronised to a folder on the Synology NAS (e.g. home/Camera). If I were to shift files out of the "home/Camera" into "home/Camera-backup", the files will be removed from the mobile device's "DCIM/Camera" as it replicates the removal.
The most important point is that it is able to have multiple pair of source-destination folders (aka folderpairs) created and running concurrently. For example:
Android/DCIM/Camera to NAS/home/Pictures/Camera
Android/WhatsApp Media/WhatsApp Images to NAS/home/Pictures/WhatsApp/Images
Android/WhatsApp Media/WhatsApp Videos to NAS/home/Pictures/WhatsApp/Videos
Android/Bluetooth to NAS/home/Drive/Bluetooth
Android/Documents to NAS/home/Drive/Documents
Okay, you get the drift. Neat isn't it?
Alternatives to FolderSync & WebDAV Server
Syncthing

Syncthing is available on the Synology NAS as a community package (from SynoCommunity). The software is also available on various platforms like Windows, macOS, Android, Linux, etc. However, I did not go for the Syncthing solution because community packages are at the mercy of Synology. We will never know when will a DSM update break the community package. That being said, official packages and features would also be deprecated or dropped suddenly when DSM is updated.
Between community and official packages, I place my bet on official (i.e. WebDAV Server). Hence, the choice of FolderSync and WebDAV Server.
Don't get me wrong, the community is lively and keeps packages updated. It is just that I desire a set-it-and-leave-it approach to this.
Synology Drive
Although Cloud Station features have been folded into Synology Drive over the last few DSM 6 updates, the Synology Drive mobile app simply does not do what DS Cloud does in terms of two-way folders sync. I hope Synology will have this two-way sync feature in its roadmap.
Getting WebDAV Server and FolderSync to work
Readying the WebDAV Server
The WebDAV Server allows users to edit and manage files stored on the Synology NAS. WebDAV stands for "Web-based Distributed Authoring and Versioning" and it is an extension of HTTP protocol so there is nothing proprietary here.
You can install the WebDAV Server package via Synology DSM's Package Center. Once it is installed, update its settings to enable the WebDAV Server to communicate via HTTPS on port 5006. While you are doing that, enable the WebDAV log feature too. The log feature will capture all file operations/ movements which you will see at the end of this article.
Just in case you have a restrictive application permission set, you might want to check if your intended user accounts are permitted to the WebDAV Server application. You can check by navigating to "Control Panel > User & Group", edit the user account and allow access to WebDAV Server under the "Applications" section. Repeat this for every user accounts that should be using WebDAV feature.
Setting up WebDAV Server on FolderSync
The important thing to take note here is to enable the "allow self-signed cert" option. Otherwise, FolderSync will reject the self-signed certificate used by the WebDAV Server package. You can test if your configurations are correct by hitting the "Test" button near the bottom of the screen.
Setting up folder pairs and starting the synchronisation
If you have done everything correctly, you should see the additions and removal of files between the folders on the Synology NAS and your mobile phone.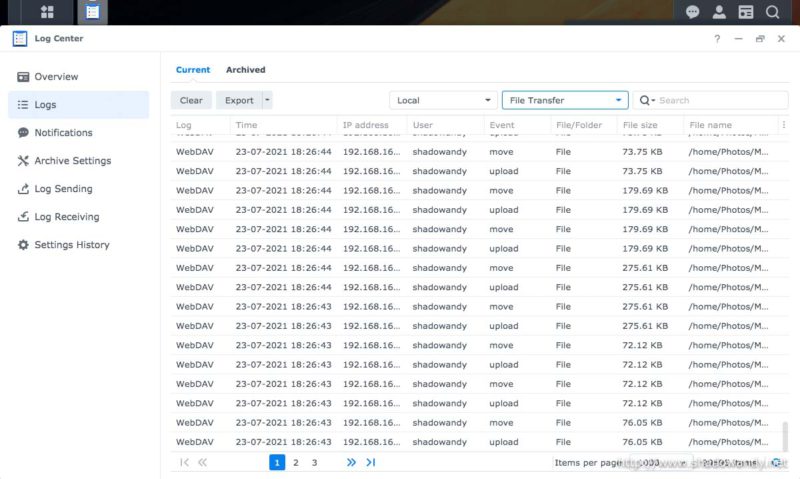 With the WebDAV log feature enabled, you will be able to view the files movement via Synology's Log Center.
Conclusion
Well, this is the end of this guide on replacing DS Cloud with FolderSync and WebDAV Server for the purpose of two-way folder synchronisation between mobile phone and Synology NAS. I have it up and running on my Synology DS1821+ flawlessly. It is synchronising folders between my mobile devices (e.g. Google Pixel 5, OnePlus 6) and Synology DS1821+.
This solution makes use of open-standard/ non-proprietary components that are currently well supported on Synology DSM 7.0 platform. Hence, it should continue to work well until the next major release of DSM.
As for FolderSync, do explore the Advanced sync settings for folderpair as that is where you tell FoldSync what to do when file conflicts occur.
Hope this guide has been useful to you.
Lastly, although DS Cloud is not supported on DSM 7.0, I hope Synology will consider bringing back the two-way folder sync feature in one of their apps. Perhaps in Synology Drive mobile app?
Treat shadowandy!
If these step-by-step guides have been very helpful to you and saved you a lot of time, please consider treating shadowandy to a cup of Starbucks.


This site contains links to
Amazon
. These links will take you to some of the products mentioned in today's article. As an Amazon Associate, I earn from qualifying purchases.